Distribution and Warehouse Drainage
Drainage solutions to support logistics and storage operations
From 'last mile' urban logistics through to large out of town fulfilment centres, ACO provide comprehensive drainage solutions to support the 24/7 logistics operations of Storage, Distribution, and Warehouse facilities.
Whether it is high capacity ACO Qmax, to transport the surface water runoff from large hardstanding areas, the load bearing abilities of ACO S Range in dock-levelling areas, or with the geocellular attenuation tank ACO StormBrixx, ACO are there to supply Distribution and Warehouse drainage solutions.
Collect, Clean, Hold, Release

ACO have developed their own unique mode - Collect, Clean, Hold and Release – to reflect this range of solutions, which embraces the entire surface water management cycle, from the point where rain lands right through to where it re-enters the natural water environment.
Distribution & warehouse solutions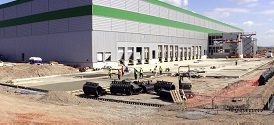 Building exteriors
ACO offers a comprehensive range of drainage solutions for Distribution and Warehouse exteriors, for water management across large hardstanding areas. In the ProLogis Distribution Warehouse in Kettering, high capacity ACO Qmax lines the large perimeter and parking places, to transport the surface water runoff from the hardstanding areas.
Controlling the flow from large catchment areas is further supported by ACO's attenuation solutions, such as ACO StormBrixx, a geocellular stormwater management system and ACO Q-Brake Vortex, which provides a flow control solution to prevent downstream flooding.
Loading areas
The load bearing capabilities of some ACO products are specifically designed to withstand the strains from HGV traffic within yard and dock locations. This has been addressed by a fashion retailer distribution centre in Corby, who have utilised ACO Qmax and its load class F 900 drainage solution in their trailer handling areas.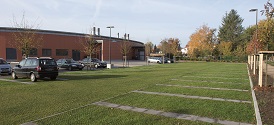 Parking areas
ACO KerbDrain is a combined drainage and kerb product and an ideal solution to support parking infrastructure at Distribution and Warehouse facilities. Polluted water runoff in parking areas and near refuelling bays can be managed by ACO QuadraCeptor, which is an effective cleaning solution that removes heavy particles, silt, nutrients and dissolved materials, such as heavy metals.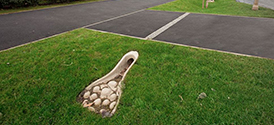 Public landscaping
Increasingly there is demand for greater attention to be paid to the soft landscaping in distribution sites and ACOs' range includes the ACO SuDS Swale Inlet, which provides a link between drainage outlets and vegetated infiltration solutions. The design protects the outfall area from erosion by slowing the speed of water entering here.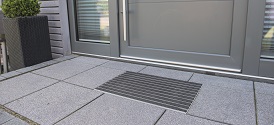 Threshold drainage
Threshold drainage solutions for Hub offices and other site buildings requires discrete and integrated products such as ACO StepDrain, with its heel safe, stainless steel grating, or ACO Multiline Sealin, with many aesthetic grating designs, as well as Heelguard safety built in.
Featured downloads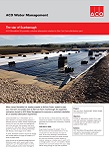 Distribution: Qmax case study
How we can assist you
The ACO Design Services Team is able to work closely with you through the entire airport drainage project requirements. We also offer design surface software for you to make your own calculations, as well as BIM product files to support the latest efficient project delivery methods.
Distribution & warehouse product search