MonoDrain
A versatile monocast channel drainage system for surface water conveyance
ACO MonoDrain is a one-piece channel drainage system that delivers multiple benefits including safety and sustainability, economical and efficient installation and aesthetic choices across applications such as stations, schools, car parks and commercial areas.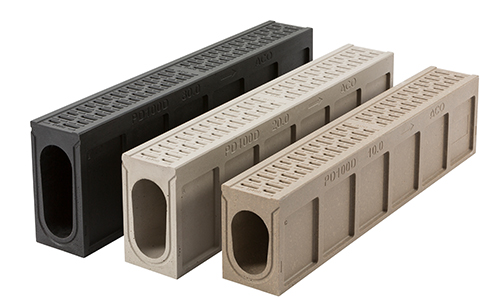 ACO MonoDrain is a simple yet versatile channel drainage system for surface water conveyance which has been specifically developed to meet the demands of contractors and clients alike. Designed to maintain the long term performance and appearance of the installation, its robust one-piece construction removes the risks associated with dislodged or stolen gratings – providing a highly effective alternative to traditional two-part channel and grate systems.
Sizes
The ACO MonoDrain system is available in 100mm wide constant depth channels and five depths, 30.0, 20.0, 10.0, 0.0 and shallow. The new 150mm channels are available in three constant depths of 20.0, 10.0, and 0.0.
Aesthetics
Each size is available in grey, black and natural and the inlet design features Heelguard™ inlets; 8mm for the 100mm size channels and 10mm for the new 150mm size channels,which are particularly suited to pedestrianised areas, To see how MonoDrain will look in different applications click the link below.
Key benefits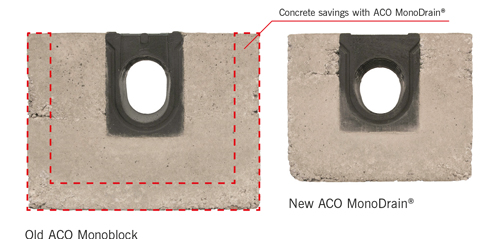 Contractor savings
ACO MonoDrain offers good savings for contractors, the channels' high strength means less haunching is needed. Up to £5.07** per metre is saved on concrete installation costs; which over a large project adds up to significant savings. This is achieved by reduced haunch requirements from 150mm down to 100mm, making ACO MonoDrains installation details superior to other monocast drainage channels available from competitors.
*150mm haunch Monoblock, vs 100mm MonoDrain for 0.0 channels, price of concrete £90 per m3 (priced May 2018).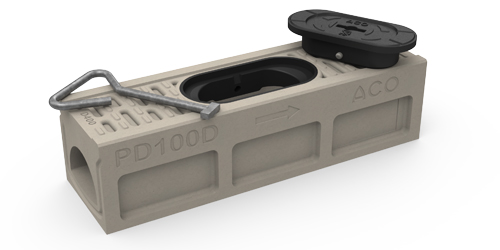 Maintenance ease
ACO MonoDrain channels are designed with accessibility in mind and can be maintained in the same way as grated systems with pressure jetting. New access units for the range are made from composite material and offer a superior resistance to corrosion, as well as snap-fit insertion, for improved security. To see more on ACO MonoDrain being maintained refer to the maintenance video in the side bar.
MonoDrain overview video
Features
One-piece design for lifetime integrity and security, suitable for parking areas and town centres
Many design configurations available including constant depth, step fall, T and L junctions
Made from sustainable, robust materials which are thermally stable, chemically resistant and environmental friendly
Integral anti-theft grating design
Simplifies specification and design
Proven performance and durability
Safe and secure installation
Capacity choices optimise hydraulic performance
High daily installation rate and material savings
Benefits
Maintenance friendly
One-piece design for lifetime integrity and security
Integral 8mm and 10mm Heelguard™ inlets designed to resist debris blockage
Profiled channel surface for improved water interception
External faces anchor channel securely into concrete surround
Sealant groove for simple watertight installations
100mm haunch dimension saves money compared to similar competitor products
Standard 100mm and 150mm wide bore shaped to promote self cleansing
Recommended Applications
Landscaped areas
Light industrial
Pedestrian precincts
Parking areas for cars and HGV's
Retail and commercial developments
Schools
Town centres
Not Recommended Applications
Highways
Heavy industrial
Ports and docks