KerbDrain
Award winning combined kerb and drainage system
KerbDrain is an award winning combined kerb and drainage system specifically designed and developed to form an integral part of any modern, sustainable surface water management solution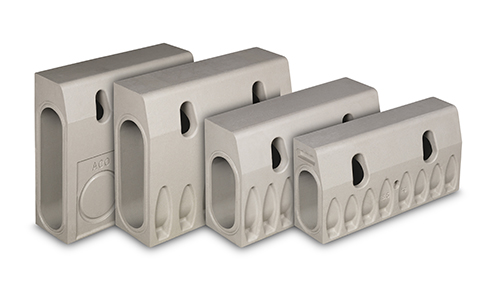 It is the first combined kerb drainage system of its kind to use recycled materials and be independently certified and Kitemarked to BS EN 1433: 2002. The one-piece system is suitable for a wide range of applications including major and minor highways, car parks, and commercial and urban landscaping.
ACO KerbDrain provides many versatile solutions for both SUDS schemes and traditional drainage systems. Engineers and designers are able to combine the benefits of both "hard" and "soft" SUDS to achieve the key elements of quality, quantity and amenity.
The system also benefits from an extensive range of complementary and problem solving components including perforated and flush centre stones, drop kerbs, radius and mitred units, internal angles, quadrants, and bus stop units.
Since its launch in the late 1990's, over 750,000m of ACO KerbDrain has been supplied to a wide variety of projects in both the UK and mainland Europe. In recognition of ACO KerbDrain's ground breaking one-piece design, the system was awarded the Queen's Award for Enterprise: Innovation in 2001.
ACO KerbDrain has a range of units to match HB1, HB2 and 45° splayed profiles, and a selection of depths and lengths to meet the hydraulic and performance requirements of many highway or drainage schemes.
ACO KerbDrain can also be adapted to suit specific projects, for example we can offer the product in a variety of colours or with a grit blasted texture to provide a more natural look.
ACO KerbDrain meets all specification requirements:
Fully compliant to the Specification for Highway Works
Kitemarked to BS EN 1433:2002
Certified by a notified body to BS EN 1433: 2002 Load Class D 400
CE marked by a notified body
Sizes Available
The system is available in a range of HB1, HB2 and SP kerb stone profiles to meet a wide range of applications.
Available in 255mm, 280mm, 305mm, 380mm, 405mm, 455mm and 480mm depths.
New KerbDrain SP455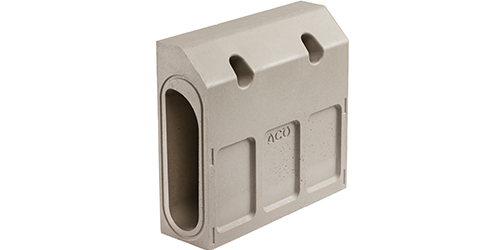 The Design Manual for Roads and Bridges (DMRB) recommends that splay kerbs should be installed with an upstand of 100mm and half-battered with an upstand of 125mm.
With this in mind ACO have re-designed their SP480 channel to the new SP455 channel meaning that our largest sized KerbDrain channels can now be transitioned between splay and half-battered.
What is even better is that you can now transition all the way from our SP280 channel all the way up to our HB480 channel.
Features
Certified for all highways applications
Impact resistance 50% higher than OPC kerb units
Manufactured from sustainable material
SUDS compliant
Full range of problem solving components for all sizes
ACO KerbDrain units are available in half battered (HB) or splayed (SP) profiles to BS EN 1340:2003
Capacity choices optimise hydraulic performance
One piece combined kerb and drainage system
Available in 255mm, 280mm, 305mm, 380mm, 405mm and 480mm depths
Complies with IAN 117/08, Clause 516 SHW and is Kitemarked to BS EN 1433:2002 for highway use
ACO KerbDrain is fully certified to Load Class D 400 BS EN 1433:2002 and CE marked
Tough and robust channel design
Benefits
Manufactured from sustainable material
Full range of problem solving components for all sizes
Capacity choices optimise hydraulic performance
Award winning one-piece design
Shallow KerbDrain allows for construction in restricted depth sites.
Simple watertight installations
Safe manual and mechanical handling
High daily installation rate
Thermally stable, chemically resistant, environmentally friendly product manufactured from Vienite, ACO high strength sustainable material
Recommended Applications
Public landscaping
Car parking
HGV parking
Petrol station forecourts
Light industrial
Heavy industrial
Public highways
Distribution yards
Security areas
SuDs
Not Recommended Applications
Threshold drainage
Airport (airside)
Domestic landscaping
Port and dock sides
Overview of profiles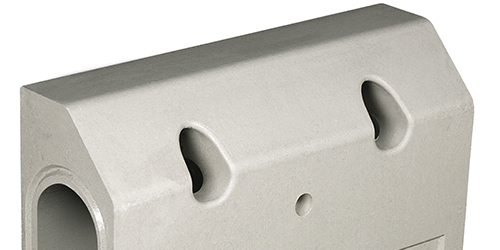 Splay | ACO KerbDrain®
45° profile
Designed for use on rural roads and highways
SP to HB transitions available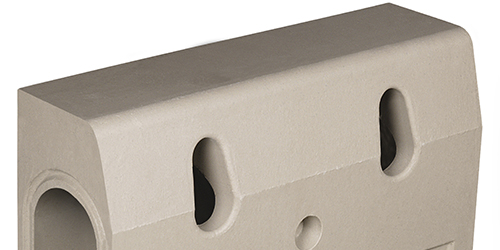 HB | ACO KerbDrain®
Half battered profile
Designed for use on urban roads, highways and car parks
HB to SP transitions available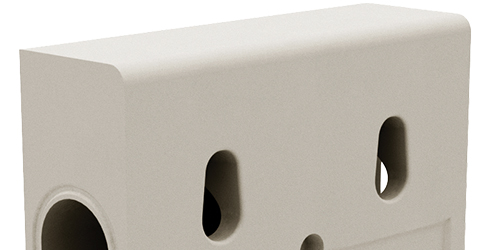 Bus Stop | ACO KerbDrain®
Half battered profile
Designed for use at bus stops to ease pedestrian safety
Transitions to standard HB range available
Featured download
To download the KerbDrain brochure, please use the link below.