Qmax
High capacity slot drainage system
ACO Qmax has been developed to satisfy the demand for a versatile, high capacity slot drainage system for a wide range of applications involving small to large catchment areas to any load class. The system is specifically designed to form an integral part of any modern, sustainable surface water management solution requiring effective storage, attenuation and eliminating carry over in stormwater conditions.
Manufactured from Polyethylene (PE), including recycled material, the lightweight material makes ACO Qmax easy to handle and quick to install yet extremely robust to withstand the rigours of typical construction site practices.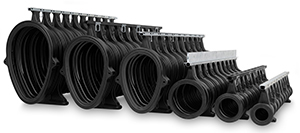 The 2m long channel units have simple push fit sealed connections as standard, with access being provided by a range of access chambers, step and channel connectors.
A choice of edge rail designs in ductile iron, composite or galvanised steel the ACO Qmax system can be tailored for use in each application, pavement design or aesthetic requirement. The ATec corrosion resistant coating on the ductile iron edge rails and PE body ensure ACO Qmax has a long service life in excess of 25 years. ACO's new composite rail has been designed to eliminate the chance of corrosion, plus also delivering installation benefits with easy to use alignment joints between channels..
The unique patented inlet design of the channels provides a continuous pavement beam feature over the line of the channel, strengthening the pavement installation and eliminating the need for additional reinforcement in most applications.
The ACO Qmax range is CE marked and certified to BS EN 1433:2002 and can support all Load Classes up to and including F 900.
ACO Qmax has received many accolades including Construction Product of the Year 2006 and The Queen's Award for Enterprise: Innovation in 2006.
Sizes and Gratings
The ACO Qmax system is available in 150, 225, 350, 550, 700 and 900 sizes ensuring greater system flexibility for engineers and designers to optimize scheme hydraulics. Choice of three edge rail designs Q-Flow,Q-Guard and Q-Slot.
Recommended Applications
Not Recommended Applications
Related products