H Range
Monolithic channel for heavy duty applications
H Range products are one-piece drainage systems designed for heavy duty applications such as highways, industrial areas and distribution yards. The channel systems are manufactured from polymer concrete and have large intake areas. The absence of a separate grating ensures resistance to vandal damage and eliminates failures caused by loose gratings.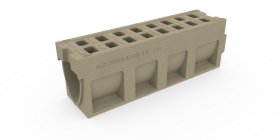 H Range RD
H Range RD is available in four channel widths; 100mm 150mm 200m and 300mm and has a variety of depths to suit many design schemes. The 100mm and 150mm units are available in 1000mm lengths. The 200mm unit is available in both 1000mm and 2000mm lengths and the 300mm unit in 2000mm lengths only.
The system is fully certified: UKCA and CE marked to BS EN 1433:2002 up to and including Load Class F 900 applications - suitable for extremely high wheel loads including ports, docks and aircraft pavements.
Features
Manufactured from strong, robust polymer concrete
Integral channel and grating/slot design improves inherent strength of the system
High in-take capacity provided by 29mm, 37mm, 42mm, 42mm wide inlets (for H Range RD100V, RD150V, RD200V, RD300V respectively).
ACO H Range is available in four channel widths: 100mm, 150mm, 200mm and 300mm.
ACO H Range is available in 1000mm lengths (with RD 300V available in 2000mm).
ACO H Range system is fully certified to Load Class D 400 - F 900
Benefits
H Range comes with a sealant groove for simple watertight installations
For use in heavy duty highway and industrial applications
No loose gratings eliminates the risk of loss or vandalism
Large intake area for maximum hydraulic performance
Tough and robust channel design
Range of accessories available for simple connection to underground drainage
Recommended Applications
HGV parking
Petrol station forecourts
Light industrial
Heavy industrial
Public highways
Distribution yards
Airports (airside)
Ports and dock sides
SuDs
Security areas
Not Recommended Applications
Threshold drainage
Domestic landscaping