Radius Channel
Radius channel designed to suit specific applications and requirements
ACO Building Drainage specialises in the design and manufacture of bespoke radius drainage channel solutions.
Radius channels can be completely customised to your needs by our in-house drainage design team.
Read how ACO developed Radius Channels for Twickenham Rugby stadium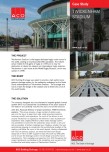 Twickenham Rugby Stadium Case Study
Read how ACO designed and manufactured a bespoke grated channel system at Twickenham Stadium the world's largest dedicated rugby union venue.
Related Products