Stainless Steel Gullies
Guaranteed performance and quality
ACO stainless steel drainage gullies are the cumulation of many years of practical experience and design expertise in steel fabrication technologies. Our state of the art European plants produce products of consistent outstanding quality with economic benefits that can only be realised through the most advanced manufacturing methods. All our stainless steel drainage gully systems work well with a range of commercial flooring options. Our gullies are manufactured in austenitic stainless steel grades 304 or 316 and are fully pickle passivated in order to ensure corrosion free joints.
The products fall into five main drainage gully types: Fixed Height and Telescopic gully systems, Gully 218, EG150 Eurogully range, Rodding Eyes, Micro Floor gullies and bespoke gullies. Each floor gully product has particular benefits which are summarised in the catalogue with full descriptions, feature and benefit listings.
We have added new higher capacity gullies (gully 315 and gully 440) to our range to cater for greater flow requirements (see chart below) to handle flows of 20-35l/s. For more information please contact us.

Download our gully brochure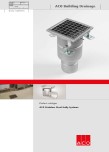 We have gullies to cater for numerous different projects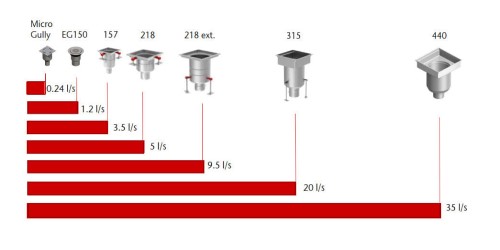 Find the right gully for the flow rate you need
Our range of gullies can cater for flow rates between 0.24l/s and 35l/s covering numerous applications. What ever your project we can help you with the right load class and shape of gully to suit your needs.
Telescopic or fixed height?
Our gullies are available as fixed height or telescopic. The benefits of both are explained below:
Fixed height gullies can be specified as a point drainage in areas where waterproofing is independent of the gully body. These gullies can be combined with different grates depending on requested load class.
Our EG150, 157 and 218 gullies also come as Telescopic gullies that can be combined either with a gully top or an ACO channel in most flooring constructions. Telescopic gullies provide a solution that enables height and rotational adjustment of the connected gully top or channel. These gullies are equipped with flanges for connection of a waterproof membrane.
Features
Available with upto three back inlets
Available in 304 and 316 grades of stainless steel
Damp proof membrane bonding flange available
Designed for cementitious and resin screed, ceramic tile and vinyl sheet floor
Option of square or round gully tops available
Benefits
Horizontal or vertical spigot outlet available
Versatile
Pickle passivated to ensure corrosion free joints.
Recommended Applications
Airports
Wetrooms
Sport/Leisure
Schools
Residential Developments
Railways
Parking Areas
Prisons
Pedestrian Area
Industrial Estate
Hospitals
Food/Drink Processing
Chemical and Pharmaceutical
Domestic
Learn how our gully flow rates are measured
Related Products