ACO International Projects
Supporting schemes around the world
Throughout the world, the ACO brand is recognised as a leading supplier in the design, development and manufacture of surface water drainage systems. An extensive portfolio offers market quality solutions for every application, including internal and building drainage, landscaping, sport facilities, retail, distribution centres, highways and airports as well as solutions for environmentally sensitive projects.
Upcoming Events:
Inter Airport Europe | 10th-13th October, Munich
Inter Airport Europe is the world's leading airport exhibition and covers all areas of airport-related technology, equipment and services, all in one place. As part of the TERMINAL segment, the show offers solutions and equipment for the construction and operation of terminal buildings, the architectural design, equipment and planning stage of the airport. The DATA area covers airport IT systems, data management solutions as well as connected systems and IT processes to handle passengers, operations as well as air traffic. The RAMP segment covers ground handling, ground support equipment, runway construction and installations.
Latest Case Studies:
Take a look at our international case studies below which cover major infrastructure projects such as airports, docks and hospitals.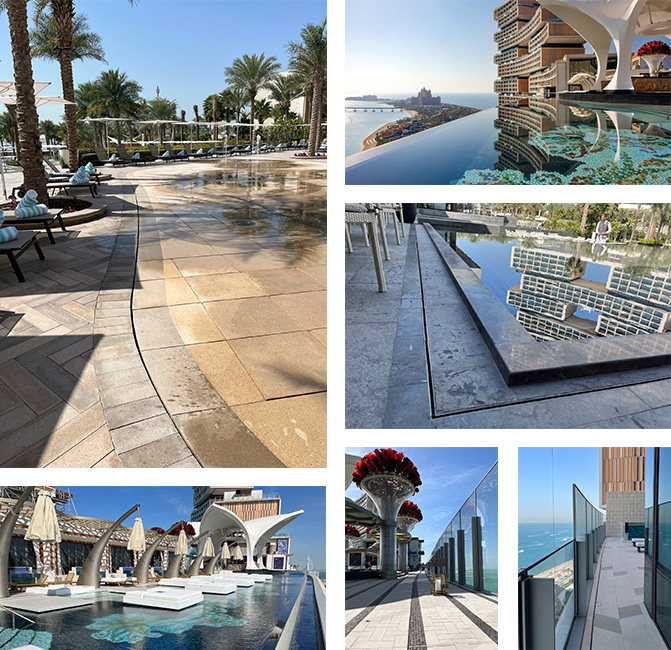 The Atlantis Royal Hotel, Dubai
The Atlantis The Royal Hotel, an audacious and pioneering addition to Dubai's skyline, is situated on the crescent of The Palm. Water-Tech company ACO played a key role in the planning and specification stages of the project, working intimately with architects to ensure compliance with high standards. ACO was selected as the preferred supplier for water management solutions both within the building and on the terraces, providing tailored slot drainage in accordance with the project's specific design requirements. In addition, ACO provided landscaping solutions, professional drainage, and grease management for the professional kitchens.
Products used included 13,000 meters of stainless steel slot drainage for balconies, 2,200 meters of slot drainage for landscaping areas and decks, stainless steel drainage for the Aquarium area and kitchens, as well as systems for water treatment for oils and light liquids, and grease management. ACO Systems FZE oversaw the project and provided technical service, with key participants including Kerzner International as the operator, Kohn Pedersen Fox Associates as the architect, and Six Construct and Ssangyong as building contractors. The construction spanned from 2016 to 2023.
Data Centre, Austria
ACO Austria partnered with a British construction company and an American design firm to undertake their largest project ever, preparing a 40,000 square meters to withstand a 1 in 100-year rainfall event for a new data centre near Vienna. Originally contacted to supply mineral oil separators, ACO quickly realised the complexity of the request and offered a comprehensive presentation on the benefits of their entire system chain. This included technical filters, Stormbrixx, and GRP material. The challenge was to ensure the area could endure a significant rainfall event and maintain performance.
The product volume and logistics required were substantial, but ACO efficiently managed the entire system chain, delivering on time and as scheduled. A team of five from the office in Baden provided ongoing support, and the site was visited more than ten times to assist the client and contractors. As a result, ACO managed to take 2,000m³ of gravel off installation, halve the planned excavation, and reduce both installation time and costs through off-site preparation. Products used included ACO Stormclean, Stormbrixx, Sedipipe, Flow splitter, Oleopator, and XtraDrain. ACO Austria's product management department managed the project and provided technical service, with involvement from companies like Jacobs, Blu3, exite, and Porr.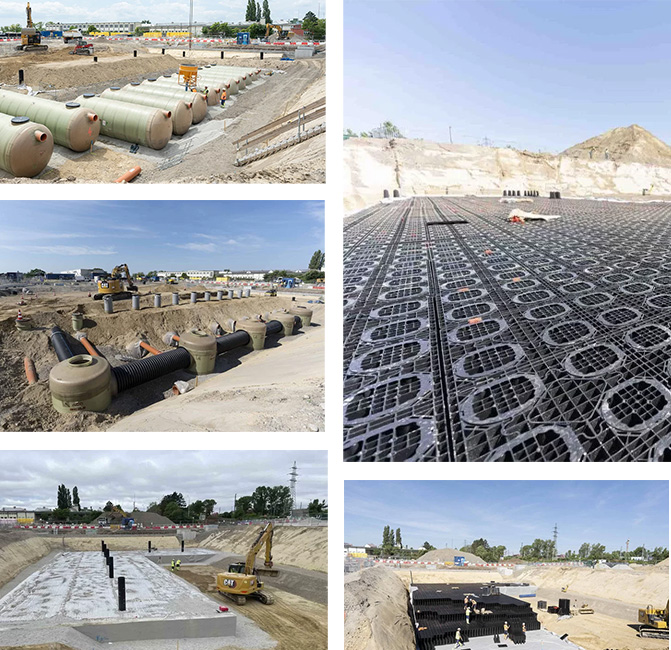 Project Support:
Designing drainage schemes overseas can often be a complex task. Designs must be carefully considered to ensure that the correct product solution is selected for the intended application, and project requirements. Our dedicated team of experts have years of experience in designing for surface water and building drainage.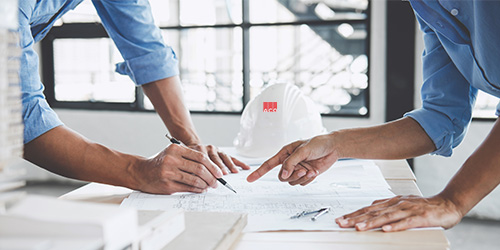 We can provide support with:
Working to support UK based engineers, architects & consultants on the drainage specification of international projects
Using our experience to assist with designing projects to various regional standards and requirements
Create a bridge from UK specification to local support for the client and contractor
Working with ACO colleagues in over 40 countries to guarantee a smooth transfer of information as well as offering local representation
Contact Us
ACO provides a broad range of integrated surface water management systems suitable for use across the entire spectrum of civil engineering and infrastructure projects. The portfolio is designed to provide the optimum solution for storm water control and sustainable drainage systems, as well as products for wildlife conservation and specialist solutions for sports arenas.
Contact our team directly today about your international project or fill in the contact form below. Our team will be in touch shortly.