QuadraCeptor
Filtration system for removal of sediment and pollutants.
ACO QuadraCeptor is a specialist rainwater and surface water runoff filtration system for the removal of sediment and harmful pollutants.
The first objective of any SuDS scheme is to manage the water at source and, where feasible, not to allow surface water discharge from the site. ACO QuadraCeptor will significantly improve the water quality, removing pollutants before infiltration into the soil or discharge into nearby water courses.
ACO QuadraCeptor is an efficient and reliable system for the treatment of surface water run-off from roofs, car parks and roads, even in heavily trafficked areas.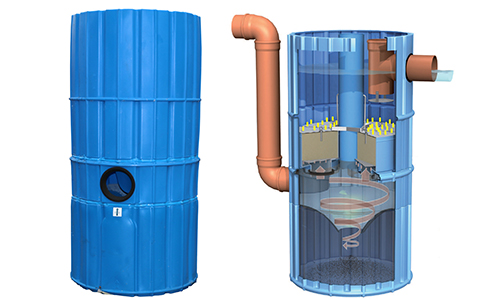 The system has been designed to remove, in a four stage process, heavy particles, silt, nutrients and dissolved materials, such as heavy metals, from the surface water as part of an integrated Sustainable Drainage Solution. ACO QuadraCeptor will improve the water quality ensuring insignificant levels of pollutants are infiltrated into the soil. Where infiltration is not feasible, the surface water discharged from site needs to be treated to an acceptable level.
Where this is to a water course, the Environment Agency (in England), the Scottish Environmental Protection Agency or Natural Resources Wales in line with legislation and guidelines such as the Water Framework Directive, will determine the levels of pollutants that can be discharged from site based on a number of factors such as the sensitivity of the receiving water, the dilution, etc.
The ACO QuadraCeptor can be combined with attenuation and flow control products from ACO's range to create full Sustainable Urban Drainage Systems (SuDS), meeting discharge consent limits on pollutants.
For larger areas, multiple QuadraCeptor units can be manifolded together.
Features
Surface water quality prior to discharge/infiltration
Very low head loss
Small footprint
Easy to fit on site
Low maintenance
4 treatment processes: sedimentation, filtration, adsorption and precipitation
No moving parts
Benefits
Filter elements can be cleaned when required and are easy to exchange when the media is exhausted
Supplied as a standalone unit in a plastic housing, and easily installed in a load bearing shaft, either standard concrete or plastic chambers
No moving parts, the only maintenance required is occasional emptying of the silt chamber and cleaning or replacing of the filters when required
Upward flowing filter reduces blockages
Recommended Applications
Airports & Docks
Distribution yards
Highways
Industrial estates
Petrol stations
Private parking areas
Public parking areas
Railways
Residential developments
Stormwater control
SuDS
Not Recommended Applications
Domestic/DIY
Nature conservation
Sports & leisure
Threshold drainage