ACO PIPE
Push-fit stainless steel pipe system
The ACO PIPE range provides our customers with access to high quality stainless steel pipe and fittings in sizes ranging from 50mm to 315mm. We also have a comprehensive range of more than 2,000 stainless steel accessories and our stock levels mean we can normally deliver upon receipt of order, enabling market-leading customer service.
Featured Downloads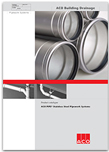 ACO Pipe (6.1MB)
ACO Pipe presents a wide range of socketed waste pipework systems in thin-wall stainless steel for above and below ground drainage applications.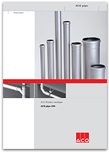 ACO Pipe 250mm (1.6MB)
Pipes with diameter 250mm are mostly used for end sections of the sewage pipeworks in large food and beverage processing facilities.
Related Products