Q-Ceptor
Innovative range of bypass and full retention separators
ACO Q-Ceptor oil separators are an innovative range of bypass and full retention separators. These high performance systems are fully compliant with BS EN 858:2002 parts 1 & 2 and exceed the requirements of the Environment Agency's PPG 3 guidelines.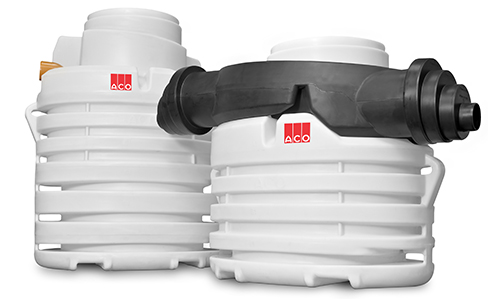 ACO Q-Ceptors are available in a range of chamber sizes and flow rates and are ideal for for treatment of surface water in car parks, maintenance areas, and industrial and residential applications.
Manufactured from polyethylene, the innovative single chamber design of the ACO Q-Ceptor is extremely compact and robust offering significant advantages in installation and handling costs over traditional GRP products.
ACO Q-Ceptors are available in two performance classes as specified by BS EN 858-1:2002.
Both Class 1 and Class 2 ACO Q-Ceptors are available as bypass or full retention separators
Bypass separators
ACO Q-Ceptor bypass separators fully treat all flows generated by rainfall rates of up to 6.5mm/hr. Flows above this level deemed "high flows" are allowed to bypass the separator. These separators are used when it is considered an acceptable risk not to fully treat these high flows, typically in areas where there is a small risk of spillage such as short stay car parks.
Full retention separators
ACO Q-Ceptor full retention separators treat the full flow typically generated by a rainfall intensity of 65mm/hr. Full retention separators are used where there is a risk of regular contamination with oil and a foreseeable risk of significant spillages e.g. vehicle maintenance areas.
Features
Compliant with the Environment Agency's PPG3 guidelines
Environment Agency verified manufacturer
Independently certified range of sizes to BS EN 858-1 and BS EN 858-2
Robust polyethylene construction for long service life and improved durability over GRP units
Compact vertical design for ease of handling, installation and maintenance
Maintenance friendly design, for simple operation and excellent accessibility
In-chamber sampling capability removes the need for expensive separate sampling chambers
Full range of quality oil, silt and high level alarm systems
Contractor friendly inlet and outlet connections on bypass unit
Light weight polyethylene extension shaft, easy to handle and install
High flow rate bypass separator for peak flows from 30 to 100 l/s
Benefits
Class 1 and 2, full retention and bypass separators
Full retention separator for peak flows from 3 to 10 l/s
Compact design reduces excavation and installation costs
Highly durable polyethylene body, less prone to damage than GRP units
Coalescing filter located for simple removal and maintenance. Unit can be cleaned by normal water pressure
Large diameter opening for easy maintenance access
Connection for optional sampling pump which obviates the need for separate and expensive sampling chambers
Extension shaft Ø716mm available
Minimum working capacity of 1,000 litres excluding silt complies fully with PPG3
Flat base for stability during installation and levelling with integrated lifting slots for forks
Bypass inlet and outlet connections accept 160mm PVC-U, 225mm, 300mm and 375mm twinwall or clay pipe work
Recommended Applications
Car parking
HGV parking
Light industrial
Heavy industrial
Distribution yards
Airport (airside)
Port and dock sides
Security areas
SuDs
Not Recommended Applications
Threshold drainage
Petrol station forecourts
Domestic and public landscaping
Public Highways