MultiDrain MD
Commercial and residential applications
ACO MultiDrain MD is a high strength channel drainage system designed to provide an economical solution for the efficient removal of surface water.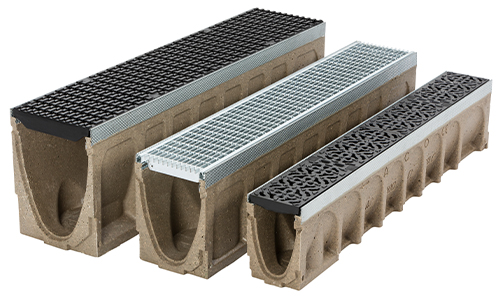 The system is suitable for use in a wide range of applications including commercial and residential developments, pedestrian precincts, landscaping and parking areas for all vehicle types. The channel unit is manufactured from Vienite, ACO's high strength polymer concrete and forms the main component of the system.
ACO MultiDrain MD is a tough and robust channel drainage system which provides high chemical resistance and the lightweight design ensures quick and easy installation. As standard, channels are manufactured with UltraSTEEL protective edge rails. The UltraSTEEL rails, with their unique patented design, provide optimum channel protection and improved bonding between the channel sides and the surrounding pavement material.
The system is fully certificated, UKCA and CE marked to BS EN 1433:2002 from Load Class A 15 pedestrian areas, up to and including Load Class D 400 suitable for parking of all types of road vehicles*.
*This system is not suitable for carriageways of public roads or motorways.
Sizes & gratings
The ACO MultiDrain MD system is available in three widths, 100mm, 150mm and 200mm and has both sloping and constant depths channels. You can choose from a range of traditional drainage gratings, solid covers and cross footpath drainage units to ensure a wide variety of applications are catered for.
Brickslot Gratings are also available to complement installations which require a discreet drainage system. To visualise how your gratings will look in your project click here
Features
Provides an efficient drainage solution for a wide variety of applications
Strong and robust V shaped channel design with a range of constant, sloped and shallow depth channels
Strong and light weight design, with male and female channel connections to aid accurate installation
Channel system available in three channel widths: 100mm, 150mm and 200mm
Channel unit manufactured from Vienite, ACO's high strength polymer concrete
Protective UltraSTEEL galvanised edge rails for improved strength and bonding between channel and surface materials. Also available in stainless steel
Strong and light weight design improves stability and anchors product into concrete surround
Sealant groove for simple watertight installations
ACO Drainlock gratings - this bar-less locking device improves hydraulic capacity and provides for quick and simple installation of gratings
Male and female channel connections to aid accurate installation
Anti-shunt prevents grating movement once installed
Available in galvanised and stainless steel finishes
Benefits
System fully certified, UKCA and CE marked to BS EN 1433:2002 Load Class D 400. Not suitable for carriageways of public roads or motorways.
V shaped channel bore improves speed of water flow and promotes self cleansing
Provides an efficient drainage solution for a wide variety of applications
Range of constant, sloped and shallow depth channels
Caters for a range of catchment areas
Strong and robust channel design
Patented UltraSTEEL channel edge rail for improved strength and durability
Extensive choice of gratings and accessories for many applications
Choice of outlet options, gullies, sumps or channel knockouts
Unique ACO Drainlock grating fixing improves hydraulic capacity
Lightweight design is simple and fast to install
100% recyclable
Recommended Applications
Threshold drainage
Public landscaping
Car parking areas
HGV parking
Petrol station forecourts
Light industrial
SuDs
Not Recommended Applications
Public highways
Heavy industrial
Airports
Port and dock side
Related products