Q-Brake Vortex
Controlling the release of stormwater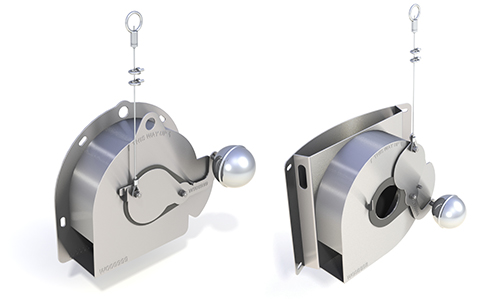 ACO Q-Brake Vortex is a horizontal vortex flow control designed to prevent downstream flooding by controlling the release of stormwater before it discharges into the watercourse or sewer. Available as a model in Microdrainage, Site3D and Causeway Flow Hydraulic Design software, it has many water authority approvals.
Custom built to suit the site requirements
Available from 2-100 l/s and up to 3m design head
Manufactured from grade 304 stainless steel
All parts welded to BS 4872
Available with curved or flat back
Attenuation volume required reduced
Larger clear opening, than traditional orifice plates, reduces risk of blockage
Parameters to quote
Each ACO Q-Brake Vortex and ACO Q-Chamber is individually configured to suit the specific performance criteria and the profile of the chamber.
ACO Q-Brake: design head (m) & flow rate (l/s)
ACO Q-Chamber: depth to invert / diameter of the chamber / number of pipe connections / diameters of pipe connections

NEW QuAD-VFC Design Tool
QuAD-VFC is a free cloud-based software that supports the design and specification of ACO's Q-Brake and Q-Plate range. QuAD-VFC calculates vortex flow control dimensions to achieve required head and flow rates. Offering instant calculations, the tool helps to speed up specification by taking into account parameters such as chamber design and outlet dimensions.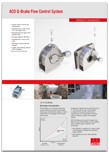 ACO Q-Chamber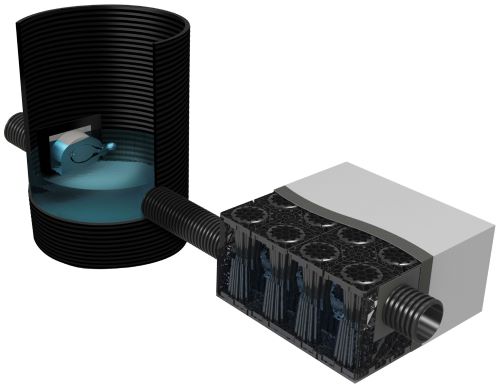 ACO Q-Chamber is a new durable bespoke prefabricated chamber designed to house ACO Q-Brake, as well as ACO Q-Plate. It combines easy-handling and simple installation with a fully-welded plastic, durable construction.
Key Benefits include:
Easy transportation and installation
Minimise working time in a confined space
All plastic interfaces fully welded, watertight and spark tested
Features
Addresses planning and connection requirement of Floods and Water Management Act
Tailored performance provides optimum hydraulic efficiency
Reduces the need for on-site storage lowering installation costs
Available with a curved back for ease of installation
Simplifies access and maintenance
Removes the need for direct man access to sewer manholes
Proven performance and reliability
Approved by Severn Trent, Anglian and Scottish Water, and others
Simple to install
Benefits
Regulates stormwater flows from 2-100 l/s litres per second
Individually configured
Self-activating system
Larger clear opening, reduces risk of blockages
Remote access for emergency drain down
Remote access bypass door
Inlet/outlet determined by laboratory verified curves
Flexible fitting options to suit profile of manhole chamber
Recommended Applications
Public Highways
Public landscaping
Car parking
HGV parking
Petrol station forecourts
Light industrial
Heavy industrial
Distribution yards
Airports (airside)
Port and dock sides
Security areas
SuDs
Not Recommended Applications
Threshold drainage
Domestic landscaping