Urban Surface Design
Designing surface water runoff in urban environments
Transport
Urban environments, by necessity, feature significant numbers of transport interchanges. Increasingly, designs are moving from single hubs to integrated nodes that link different transportation systems and incorporate other facilities such as food and shopping outlets.
With a prerequisite for these types of interchanges being efficiency of operation, it is essential that matters such as safety, security and environment are properly addressed.
The management of water is key in parking, collection and departure areas, and at critical entrance and exit points. ACO's design team are experienced in helping create integrated drainage solutions for all types of urban transport.
Concise case studies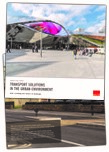 How we can assist you
Our Design Team
Collaboration is very much a part of ACO's way of working. For over 50 years we have been offering creative design solutions to all sectors of government, public and private enterprise and have a track record for development and regeneration informed by community aspirations and environmental context. Our in house design team and our external design engineers have excellent technical understanding of interconnected systems that can help you create sustainable drainage solutions in all categories of the urban environment.
Tools to support you
We also offer software for design surface to assist you in making your own calculations, as well as design visualisers to assist in helping assess impact of various grating/inlet details. BIM product files along with a variety of other support documents are all available for download here.