MultiDrain MD Brickslot
Latest generation of channel drainage systems
The latest generation of channel drainage systems, ACO MultiDrain MD, has a range of gratings to complement installations which require discreet slot drainage.
Designed as standard with a heelguard 10mm off set drainage inlet, ACO Brickslot is a subtle and unobtrusive grating which when combined with ACO MultiDrain MD galvanised and stainless steel channels, can be used as a solution to complement discreet drainage applications and is ideal for use against building facades.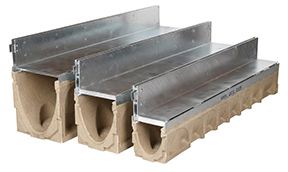 Compatible with most paving materials, the vertical sides of the grating enable pavements to be laid directly to the units edge. Once installed the system is totally secure and not vulnerable to vandalism or loose gratings. This makes the system suitable for applications such as schools and playgrounds where grating removal can become a hazard.
The channel and ACO Brickslot grating together provide and unobtrusive continuous slot drainage system, with high hydraulic efficiency for fast removal of surface water. ACO Brickslot gratings are available in galvanised or stainless steel and suitable for use with the 100mm, 150mm and 200mm wide channels in the ACO MultiDrain MD range.
The system includes an ACO Brickslot access unit to ensure easy maintenance and access to the drainage system, and is also fully compatible with the range of ACO MultiDrain MD accessories.
ACO MultiDrain MD Brickslot is suitable for Load Class D 400 applications. This product is not suitable for carriageways of public roads or motorways.
Recommended Applications
Not Recommended Applications
Related Products