Freestyle
Integrating external surface drainage design into Architecture.
The ACO Freestyle offering is a unique customer-led grating design solution, which gives Architects and commercial property owners the freedom to create fully-bespoke drainage grating designs for the external environment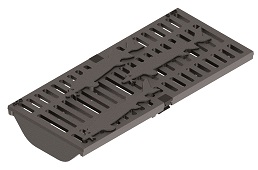 ACO are world leaders in the field of Surface Water Management and our knowledge in designing and manufacturing a wide range of grates for our drainage channels, has allowed us to offer our customers a chance to utilise this expertise.

With ACO Freestyle you have the freedom to create your own drainage designs that integrate into the architecture and materials of the building envelope, that extend and emphasise different aspects of the building, compliment the paving and landscape choices, all while keeping the ground free from surface water.
Freestyle grates are manufactured at ACO's foundry in Germany from Ductile iron. Freestyle grates are compatible with standard ACO MultiDrain MD/PPD channels, are load class D 400 and incorporate ACO's Drainlock™ boltless locking system.
With the option to access a number of pre-moulded designs, as well as create something completely unique, which ACO will manufacture for you, Freestyle allows greater creative control of the external landscape.
Whilst drainage is largely built for the outside environment, ACO Freestyle means that channel drainage is no longer an outsider to the world of design.
Login to downloads for the Freestyle Design Templates
Features
Compatible with MultiDrain MD/PPD channels
Incorporates ACO's Drainlock™ boltless locking system
Grating design is overlaid on a grid design that has been tested for a load class up to D 400
Option to access a number of pre-moulded designs
Grates come with a black coating, left uncoated or ATec coating is available
Designs can be submitted, with a hand drawing or a digital model
Gratings will be tested in accordance with EN 1433 (annex ZA) to load class D 400
Freedom to create your own drainage designs that integrate into the architecture and materials of the building envelope
Benefits
Have a design that integrates into the architecture and materials of the building envelope
To extend and emphasise different aspects of the building, complement the paving and landscape choices
Branding opportunities by incorporating logos into the grating design
Freestyle grates offer the same performance and maintenance benefits as standard MultiDrain® grates
Same hydraulic capacity as ACO's popular MultiDrain® MD/PPD channels
Can integrate into historic surroundings with ductile iron material
ACO will take your design and create a 3D model, and will optimise the design for production and performance
Strength calculations and casting simulations are made on the submitted design
Recommended Applications
Pedestrian areas and flagship buildings
Parking areas
Not Recommended Applications
Related products