SuDS Swale Inlet
Aesthetically pleasing interface between proprietary and vegetated drainage
The ACO SuDS Swale Inlet unit provides an aesthetically pleasing solution when linking proprietary conveyance drainage systems to vegetated infiltration features such as swales, basins, ponds and water courses.
In comparison to traditional in-situ structures and concrete headwalls, the low profile unit provides a natural looking interface between proprietary and vegetated drainage solutions, complementing the surrounding environment.
The consistent product appearance makes the product ideal for phased or retrofit installation, and the 1 in 3 gradient profile can be used to help construct swales to satisfy the CIRIA C753 guidance (Design Criteria for Swales).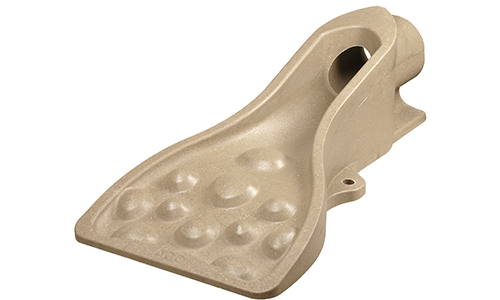 The surface finish and the flared outlet of the unit encourages water dispersion and reduces excessive flow velocities – helping to protect the surrounding environment from erosion and meeting the flow rate guidance in CIRIA C753. The ACO SuDS Swale Inlet will reduce the velocity and distribute the flow across a footprint up to 6 times that of a traditionally constructed pipe outfall.
As part of a system to manage the flow rate and volume of surface water run-off, the ACO SuDS Swale Inlet reduces the risk of localised flooding and eases pressure on the drainage network.
The ACO SuDS Swale Inlet can be integrated into any SuDS drainage scheme where there is a requirement to manage water on or near the surface, helping to manage surface water at its source.
The one piece unit is placed into position and can be installed using concrete bedding or, alternatively secured with spiral ground anchors. No additional on-site shuttering or formwork is required, removing the need to return to site and ensuring the final stages of a project can be concluded quickly and without hassle.
ACO SuDS Swale Inlet is manufactured from Vienite, ACO's high strength sustainable material which offers greater durability when compared to traditional materials and structure which can deteriorate in service. Vienite allows virtually no water absorptions providing protection against frost and freeze-thaw, thus maintaining the long term performance of the unit.
ACO SuDS Swale is available in 3 colour options: natural, grey and black. An optional textured finished can also applied along with a stainless steel grating for greater protection.
NEW! SuDS Inlet Gratings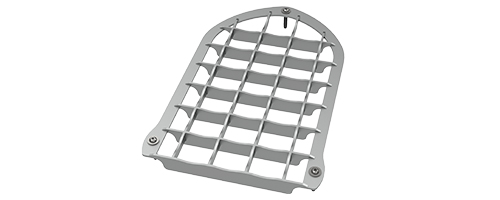 Standard mesh grating
The standard mesh grating kit is suitable for SuDS features which will be regularly mowed or maintained. The grate prevents mower wheels from falling into the outlet.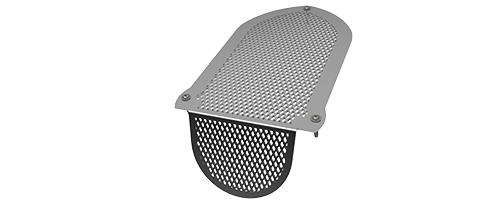 Newt mesh grating
The newt mesh grating kit is specifically designed for Newts and other amphibians. The mesh limits their access to the SuDS feature, and retains the species in their natural environment.
Features
Aesthetically pleasing interface between proprietary and vegetated drainage features
Helps protect local area from erosion by reducing velocities and encouraging water dispersion
Reduces the risk of localised flooding and pressure on the drainage network
Reduces excessive velocities and encourages water dispersion
Consistent appearance complements surrounding environment
Complies with flow rate guidance in CIRIA C697
Cost effective alternative to traditional in-situ structures and pre cast concrete headwalls
Offers durable, long term performance
Simplifies installation and removes unnecessary costs
Fixing points for ground anchors or concrete haunching
One piece design
Benefits
Straightforward inspection and maintenance
1 in 3 profile design satisfies CIRIA C697 and can be used for construction of swales
Can reduce the erosion rate to a quarter of that of a standard pipe (CIRIA R116)
Distributes the flow of water to 6 times the area of a standard pipe
Surface finish reduces flow velocities
Flared outlet aids alignment and water dispersion
Low profile design allows maintenance equipment to safely pass over unit
Flat base for level installation
Inlet connection: Ø160mm singlewall or Ø150mm twinwall pipe
Made from sustainable, robust, thermally stable materials
Recommended Applications
Swales
Pond or basin
Bio-retention area
Rain gardens
Water courses
Ditches
Wetlands