Qmax slot drainage - attenuation
On the right line
ACO Qmax is a high capacity, heavy-duty and versatile slot drainage system suitable for surface water management and attenuation.
With its unique and award winning design and available in 6 sizes, the larger sizes allow engineers and designers to create hydraulic schemes that utilise the attenuation properties of Qmax while still retaining the discretion of a thin edge rail.
In a normal rain event water is conveyed immediately away but in heavier rain events Qmax allows effective attenuation to eliminate stormwater carry over and reduce the impact on drainage networks.
ACO Qmax downloads
Why is attenuation in ACO Qmax useful and needed?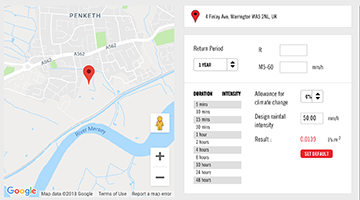 The need for attenuation
The sewers for adoption – (Initial guidance for the design of surface water networks) and the Sustainable Drainage Systems (Non-statutory technical standards for sustainable drainage systems) both have a criteria of no flooding in a 1:30 year storm event. With increasing urbanisation and climate change the Environment Agency has upgraded its mitigation guidance from +30% to +40% for the 1 in 100 year design criteria.
So water management systems such as ACO Qmax are required to meet this criteria, while still retaining a conveyance ability for normal rainwater events.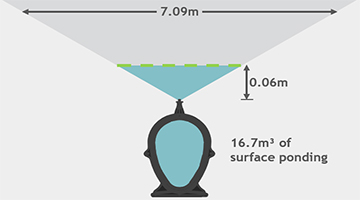 Value engineering
In addition for these 1:100 year events Qmax can be designed with surface storage; temporary ponding built into the calculations, that can allow the reduction in other storage systems, such as attenuation tanks, part of the value engineering service that ACO can offer.
ACO Qmax can also be combined with the ACO Q-Brake Vortex flow control to regulate and control stormwater before it discharges into the ongoing watercourses, as a part of a SuDS (sustainable drainage system) or to a drainage network.
ACO Qmax attenuation video
ACO Qmax technical product files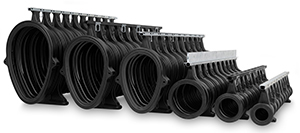 ACO Qmax technical product files
The ACO Qmax system provides optimum surface water drainage and attenuation for a wide range of infrastructure, industrial, hard landscaped and other SuDS applications.