Climate Tunnel Entrance
Entrance ensures that small animals are guided into the Tunnel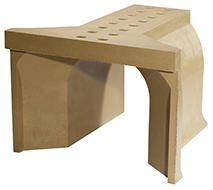 The ACO Climate Tunnel Entrance is used in conjunction with the ACO Guide Wall and ACO Climate Tunnel or Stilt Tunnel to make up a complete guidance and crossing system.
The combination of these elements forms a smooth transition from the ACO Guide Wall into the ACO Climate Tunnel under the carriageway.
No metal reinforcement is used, so animals are not disoriented by distortion of magnetic fields, while the non-absorbent surfaces has minimal thermal conductivity, providing an ideal surface for amphibians to move along.
Features
Small animals are prevented from encroaching on the carriageway.
No discontinuity between guide and transfer units.
A complete seamless system to guide animals to safety.
Animals are not disoriented by distortion of magnetic fields.
Minimal thermal conductivity.
Certified to Load Class C 250 BS EN 1433:2002.
Benefits
Guides small animals into the tunnel under the road.
Side wings link ACO Guide Wall to Tunnel Entrance.
Use in conjunction with Guide and Tunnel systems.
No metal reinforcement.
Manufactured from polymer concrete.
Available as a complete kit.
Recommended Applications
Highways
Nature conservation areas
Areas identified for mitigation measures
Residential developments
Distribution Yards
Industrial Estates
Related products