Climate Stilt Tunnel
Forms extended ventilated entrance for the climate tunnel
The ACO Climate Stilt Tunnel can be used in conjunction with the ACO Guide Wall, ACO Climate Tunnel and ACO Climate Tunnel Entrance to form a complete guidance and crossing system.
The floor of the ACO Climate Stilt Tunnel is the same level as that of the ACO Climate Tunnel Entrance, so can be used to form a continuous slotted tunnel when a Load Class of C 250 is required.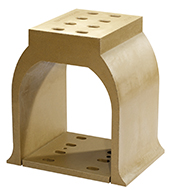 For higher loadings, the Stilt Tunnel is used in the verge with ACO Climate Tunnels in the carriageway, either installed at road surface level for a slotted tunnel, in which case the tunnel floor needs to be ramped at the entrances, or installed below road surface level using solid top units, giving a constant floor level.
In these cases a Stepdown unit bridges the gap between the differing heights of the system components.
The ACO Climate Plate, complete with drain holes, is used to form a floor in the same material as the ACO Climate Tunnel, providing a uniform surface for animals to move along.
No metal reinforcement is used, so animals are not disoriented by distortion of magnetic fields, while the non-absorbent surfaces has minimal thermal conductivity, providing an ideal surface for amphibians to move along.
Features
Animals are not disoriented by distortion of magnetic fields
Provides a firm access surface
Different surface options are easily achieved
Reduces crossing distances and installation costs
Minimal thermal conductivity
Certified to Load Class C 250 BS EN 1433:2002
Manufactured from polymer concrete
Benefits
No metal reinforcement
Climate Plate is manufactured from the same material as the tunnel floor
Stepdown aligns 720mm Climate Stilt Tunnel with 520mm unslotted Climate Tunnel installed below surface level
Slots equalise ambient conditions between tunnel and open air
Light and humidity are maximised
Can be installed close to road surface
Recommended Applications
Highways
Nature Conservation
Areas identified for migration measure
Residential Development
Distribution Yards
Industrial Estates
Related products