6mm Heelguard™ Rail Grate
Intercept Heelguard gratings for use in rail applications
ACO's new Heelguard™ 6mm Rail Intercept gratings are specifically designed for the rail industry and meet all inlet requirements, as well as skid and slip performance criteria for installation on rail platforms and station building curtilage.
Certified to Load Class D 400, the grating range is compatible for use with ACO MultiDrain®, MultiDrain® Sealin and MultiDrain® PPD channels. The 6mm width slots are heelguard protected and are also compatible with ACO's security locking bars for added protection in high theft/vandalism areas.
Features
Meets high skid and slip requirements
Meets inlet requirements - 6mm width slots
Quick and easy to install locked grates
Strong and durable ductile iron
Benefits
Heelguard protected grating
Available in widths of 100mm, 150mm and 200mm
Suitable for use with ACO MultiDrain MD, Multiline Sealin and MultiDrain PPD
Recommended Applications
Rail platforms
Building curtilage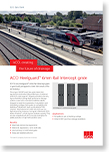 Need help with your design? Ask our Design Team a question today via our online support facility.
askACO Support is a free to use online service. Our Design Team can provide you with expert guidance on your Rail project, without obligation. Speak to one of our team today.