Rail Access Point
Access point for maintaining rail drainage
ACO's innovative Rail Access Point has radically improved the installation and maintenance practices of rail drainage.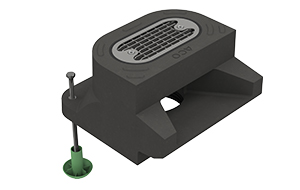 Utilising ACO's Vienite® polymer concrete, which is naturally less conductive, gives these units significantly superior performance against stray currents compared to metal access points.
Installation with 41 GPU Rail
The Rail Access Point features a large drainage area which encapsulates the drainage slot from under the rail. The unit features an integrated internal seal making connection to a 110mm spigot simple and quick. With easily adjustable support legs the access unit is seated in a bed of concrete, and as no mechanical fasteners or drilling is required to secure the unit, installation is fast and efficient.
Units are fitted with a mesh stainless steel grate giving full visible inspection to the vertical pipe and the rail catchment area, making it quick and easy to inspect for blockages without removing the grate.
Features
Load tested to D 400
Easily adjustable support legs
Manufactured from Vienite, a non conductive recycled material
Benefits
Reduces risk of stray current with Vienite® polymer concrete
Weight reduction over comparable size cast iron unit
Faster installation, with no mechanical fasteners or drilling of the rail, compatible with 41 GPU rails
Screw adjustments to fit site height variations
Easy maintenance and inspection, with 130mm rail drainage slot
Selection of colour finishes to suit surfacing
Recommended Applications
Tram schemes and depots
Light rail developments
Design Advice

Need help with your design? Ask our Design Team a question today via our online support facility.
askACO Support is a free to use online service. Our Design Team can provide you with expert guidance on your project, without obligation. Speak to one of our team today.
Related products