Qmax slot drainage - speed of installation
On the right line
ACO Qmax is a high capacity, heavy-duty and versatile slot drainage system suitable for surface water management and attenuation.
Building at speed is critical to how Engineers and Contractors operate and ACO Qmax high-capacity slot drainage system can be installed quickly and easily, yet will stand the test of time once in place, with a CE marking and being certified to BS EN 1433:2002.
ACO Qmax Speed of installation video
Find out more
New Qmax Composite rails
Qmax channels are now available with ACO's new Q-Guard composite rail to add to the existing Q-Guard in this material. Q-Guard comes with added HeelGuard inlets suitable for pedestrian areas, for use in a wide range of drainage applications with A 15 – F 900 load class.
To see how ACO Qmax rail choices look in different applications try our Surface + Grating Visualiser:
Why does ACO Qmax enable speedy installation?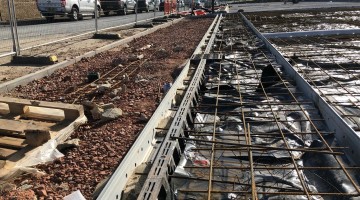 Easy-handling and pavement beam concrete flow
Manufactured from polyethylene the lightweight 2m long channel units are easy to handle and have a simple integrated push-fit seal but are extremely robust to withstand the rigours of typical construction site practices. They are delivered to site with protective installation strips that keep ingress out of the rails during installation.
Thanks to ACO Qmax's patented 'Pavement beam', a continuous flow of concrete from one side of the channel to the other can be set, which reduces the need for additional reinforcement, minimises installation time and means handling can be kept to an absolute minimum.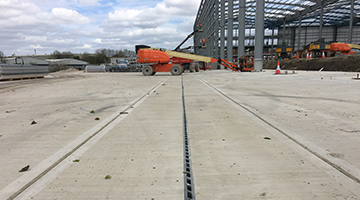 Composite edge rail alignment
There are three different material choices with ACO Qmax and the composite edge rail selection is designed for accurate alignment across long drainage runs thanks to its wingnut joining bolts. At Peterborough Gateway the contractor commented that "Being just a couple of millimetres out of line per channel can really be magnified over the course of drainage run, resulting in a poor finish – both aesthetically, and from a hydraulic performance perspective."
The wingnut joining bolts in the composite edge rail allowed each length to simply bolt into the next; guaranteeing the straightness along the long drainage run in the large hard-standing area.
ACO Qmax technical product files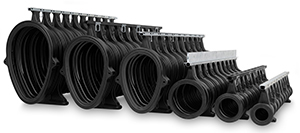 ACO Qmax technical product files
The ACO Qmax system provides optimum surface water drainage and attenuation for a wide range of infrastructure, industrial, hard landscaped and other SuDS applications.