Bat Box
Built in roosting or hibernation box
The ACO Bat Box has been designed to provide a sheltered roost for bats.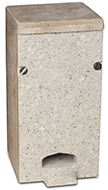 The box is three standard brick courses high and half a brick course in width, so is easy to build in to a wall during construction. Alternatively the box may be retrospectively built in, by cutting out a suitable area.
The protruding top lip acts as a weathershield and prevents rain running into the box from above. There is a small platform at the base for bats to use when leaving or arriving. The inside of the box is grit-blasted to provide a surface for the bats to grip, and a wooden insert is fitted to the inside back face, also providing a suitable gripping surface.
The front panel is removable for inspection and cleaning. This should only be done by a suitably licensed person when it is clear that the box is not being used
Related products