Sport Kerbstones
Rubber capped kerbs for safety and demarcation
Many areas in stadiums and playing fields need to be be marked out with running tracks and areas for field events, and also safely edged. The rubber capped kerbs can be used to edge in situ concrete water jumps and jump sand pits and provide a soft, safe edge to reduce injury.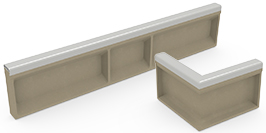 The Sport Kerbstone cellular EPDM rubber top kerb provides a safe visual border between different sport surfaces such as between in-field turf and D areas.
Sport Kerbstones' elastic kerbs are available in a variety of sizes and with white, or black, EPDM rubber cap.
Features
Equality suited for professional sports stadiums and the local playground
Solid anchoring into the surrounding concrete bed
EPDM soft top curbs provide safe edges to reduce injury
Can be used in a variety of applications within an areana, for demarcation and perimeters
Complete system includes 90 degree corner units
High quality kerb top moulded into polymer for high performance
Benefits
Polymer concrete kerb with EPDM synthetic rubber capped top
Also suitable for children's play areas, sand pits, recreation grounds and school playing fields
Recommended Applications
Long jump pits
Children's play areas
Sand pits
School playfields
Water jumps
Not Recommended Applications
Non-sports related applications
Related products