Grooved RailDrain Ri59/60
providing simple and effective drainage of the grooved rail
The grooved rail is an area which can be difficult to access and maintain on many tram and light rail applications. ACO's Grooved RailDrain units offer a solution to this problem by providing simple and effective drainage of this area.
The one-piece units can be installed against coated or uncoated rail sections providing a dedicated drainage point to intercept water from the groove in the rail profile. The units can also be installed continuously to avoid interference with other services contained within the track slab.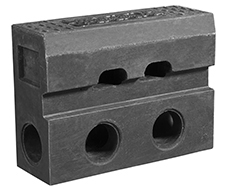 ACO Grooved RailDrain units are manufactured from Vienite®, ACO's sustainable high strength material. The material does not conduct electricity and will provide protection against stray current.
ACO Grooved RailDrain units feature optional connection points for parallel connection to underground drainage networks.
This ACO Grooved RailDrain unit is designed to suit Ri59/60 rail profiles. An alternative unit to suit Ri41GP rail profiles is also available.
Recommended Applications
Not Recommended Applications
Related Products