Integrated transport systems
Specialist water management solutions for transport infrastructure
Managing water across transport networks requires expertise and collaboration to create resilient, effective and sustainable finished projects. ACO Technologies plc has over 30 years of expertise in design, and more recently professional development, to support the use of drainage solutions for integrated transport systems involving linking transport hubs, high speed rail, highways, airports, ports and logistics.
Collaboration & design - early stakeholder involvement
Increasingly transport designs are moving from single hubs to integrated nodes, for these complex and long-lasting projects. Early stakeholder involvement is essential; bringing clients, consultants, suppliers, designers and contractors together to choose the most appropriate water management solutions across each transportation zone. The consequences for poorly designed surface water management systems are severe, disrupting networks and potentially requiring costly maintenance.
Are you a stakeholder in a transport infrastructure project?
Professional development
ACO have partnered with Colab, a professional development organisation that helps individuals enhance their personal skills and knowledge throughout their careers.
There are a range of transport orientated supporting content on this platform including a Highways water management webinar available on playback, hydraulic design and general transport content.
Integrated transport overview brochure
Download our Integrated transport drainage solutions brochure for examples of how ACO expertise and collaboration has supported resilient, effective and sustainable integrated transport systems.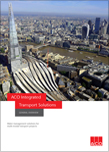 Integrated transport solutions brochure
Water management solutions for multi-modal transport projects
Transport sectors
Find out more about water management solutions for individual transport sectors:
How can we assist you?
Our design team
Collaboration is very much a part of ACO's way of working. For over 30 years we have been offering creative design solutions to all sectors of government, public and private enterprise and have a track record for development and regeneration informed by community aspirations and environmental context. Our in house design team and our external design engineers have excellent technical understanding of interconnected systems that can help you create sustainable drainage solutions in all categories of the urban environment.
Tools to support you
We also offer software for hydraulic design to assist you in making your own calculations, BIM objects and product files to assist you in your calculations.