Garden Designers and Landscapers
Support for garden designers & landscapers looking to use ACO domestic drainage and landscaping systems
Tailored to the demands of domestic applications, ACO House + Garden products have finish options that both complement and enhance the aesthetic qualities of any domestic property, whilst supporting sustainable water management.
This range is convenient for landscapers and gardeners to specify and install with industry leading support to help you deliver the best project for your customers.
The modern and functional range provides homeowners with the most complete and stylish surface water management offering.
ACO Knowledge
Increasing business by improving sustainability.

For today's newsreaders, there are two words that seem to keep cropping up on their auto-cue: climate change. For businesses, there's another two: sustainability credentials. As both things are in many ways connected, the more companies that prioritise sustainability, the more chance those newsreaders will get to talk about something else.
Not only that, as customers and potential homeowners become increasingly interested in home and garden design that embrace concepts like carbon neutrality and net-zero carbon emissions, gardening, landscaping, and construction firms that demonstrate their understanding of these issues – and show an ability to put them into practice – stand to benefit.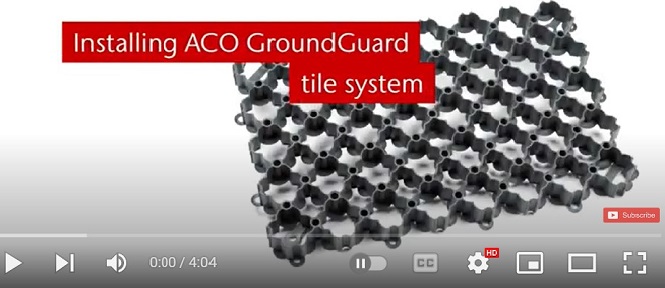 New How to Install GroundGuard
Our GroundGuard installation tutorial shows you how easy and quick it is to prepare and install.
Planting for the planet – creating a Net Zero garden
Almost a third of the urban surface area in the UK is covered by residential gardens, according to Ordnance Survey. This presents gardeners with a unique opportunity to help mitigate climate change.
Bring your garden to life by attracting wildlife
If you care about the planet we live on, you'll be familiar with the word sustainable – and very likely keen to improve your sustainability credentials. But if you'd like to go beyond just cycling to work or recycling the rubbish, there's one way of contributing towards a more sustainable planet that's truly meaningful – encouraging biodiversity by attracting wildlife to your garden. Not only will you be delivering sustainability, it could improve your wellbeing and even add value to your property.

The unwanted water feature - Flooding in gardens and driveways
As a nation, we Brits spend no end of time and effort on our outdoor spaces. Looking into landscaping. Planting the right plants. Designing attractive driveways to cater for our cars. But the good old British weather can spoil all that effort in a moment. Rainwater – essential to the well-being of our gardens – can also ruin them if it can't escape, leaving us with flooded flora and driveways drowned in brown standing water.

Garden design with Tom Massey
An inspirational and award winning garden designer from south-west London. Tom talks with ACO about what inspired him to start his career in garden design and the importance of considering sustainability in every project.

Garden design with Flo Headlam
Video interview with Flo Headlam is an enthusiastic and passionate garden designer and horticulturist

Creating a rain garden – nature's own soakaway
With increasingly dramatic weather events due to climate change, garden and landscaping experts are becoming increasingly inventive in the way they deal with the effects. One such method is the rain garden.
They take careful planning, planting and landscaping to create , but the results can be hugely beneficial, especially for the planet.

Garden design with Charlotte Rowe
In this new interview with Charlotte Rowe and Tomoko Kawauchi from Charlotte Rowe Garden Design we take a look at what's involved with designing amazing gardens, and how sustainability is changing consumer demands.

Sustainable Garden Design; Nature Sets the New Standards
There was a time, long ago, when you couldn't walk far across Britain without tripping over a beaver dam. Sadly, sometime around the 16th century, the last of the Eurasian beavers to live wildly in Britain were hunted to extinction.
Today though, against a complex background of global warming and climate change, the reintroduction of these creatures to the countryside is teaching landscapers and gardeners valuable lessons about water sustainability – even in the most heavily urbanised areas.

Making sustainable attainable – 10 simple ways to eco-friendly garden design.
Just a little patch of garden – that's often all we need as human beings. Somewhere to grow one or two plants, attract a few bees and generally give us a sense of wellbeing. But one thing has made those outdoor spaces not only important for our welfare, but vital for the future of the planet – climate change.
So here, we're sharing ten ways for you to build a little more sustainability into your next landscaping or garden design project.

Sustainable garden design ebook
We have a new free ebook for garden designers and landscapers focusing on how sustainable design can be good for your customers, your business and ultimately the planet.

New global gardens design trends ebook
Our new eBook reveals how even the smallest gardens can make a big contribution to mitigating climate change.

Landscaping Associations
ACO is a proud member of both the British Association of Landscape Industries and The Association of Professional Landscapers. We also regularly work with the Society of Garden Designers members.
Find out more about these organisations, and how we're working with their members below.

British Association of Landscape Industries
The British Association of Landscape Industries promotes, supports and inspires over 900 Accredited members including landscape contractors, landscape architects, garden designers and suppliers to be leaders of an environmentally, ethically and commercially sustainable landscape services industry.
BALI accredited members can carry out works in all areas of landscaping, including but not limited to garden design, hard and soft landscaping, lawn care or artificial grass, hydroseeding, irrigation and drainage, groundworks, roof gardens and sports grounds and maintenance.

BALI drainage webinar series in association with ACO
ACO was honoured to be invited by British Institute of Landscape Industries (BALI) to support a three part series of webinars for its members on key drainage topics. ACO was joined by guest speakers Award-winning garden designer and BALI Registered member, Rosemary Coldstream MBALI MSGD, and multi-award-winning landscaping specialist and managing director of Landform Consultants, Mark Gregory.

The Association of Professional Landscapers (APL) was formed to help consumers make an informed choice. Established in 1995, the APL, which is a specialist group of the Horticultural Trades Association (HTA), and represents landscapers who have met a required standard of professionalism. Members of the Association are registered with the government endorsed TrustMark scheme and are regularly inspected and agree to follow our Customer Charter. All APL members also hold appropriate insurances and have traded for a minimum of two years.
What kind of project are you working on?

Driveways
ACO's range of stylish and modern drainage solutions can enhance the landscape of any domestic driveway.
A range of products are available to complement your garage threshold and driveway entrance, helping to create an attractive and functional space.
Meeting the highest performance standards, ACO's range of driveway products can withstand the rigours of everyday use

Patios
Enhance your patio design with ACO's elegant and modern 'Complete the Look' and slotted gratings.
The product range provides homeowners with a drainage solution that perfectly complements any style of patio project from slate to natural stone.
Designed to be used with ACO's best-selling domestic drainage channels ACO HexDrain and ACO RainDrain, a choice of styles ranging from contemporary stainless steel to discreet brickslot options are available to provide the perfect finish.

Building thresholds
ACO's range of building threshold products, help to create attractive threshold drainage around the entrances of the home.
ACO threshold drainage removes water ponding at entrances, whilst also providing attractive and functional detail in the architecture of the home.
A variety of finishing options, ranging from slimline stainless steel to anthracite carpet, are available to enhance your threshold.

Landscaped areas
ACO's range of ground stabilisation system, allow for functional, beautiful spaces and easy water management.
ACO GravelGuard and GroundGuard are ideal for use in domestic driveways and paths, where a grass or decorative aggregate finish are required to complement the landscape, whilst also reducing the risk of potholes, rutting or grass damage.
The range offers unimpeded flow to surface water, reducing the rate of run-off and is exceptionally lightweight and strong, making the products quick and easy to install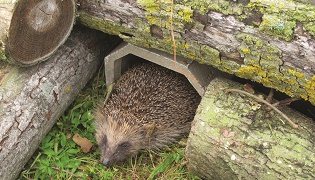 Biodiversity
Bird boxes, bat boxes, wildlife refuges and more. If you want to enhance and support biodiversity on a project ACO can help with its range of Wildlife products.
Need inspiration?
See what others have achieved using ACO products

Featured downloads

Want more?
Whether you're a garden designer, landscaper or DIYer. If you'd like to see more tips and advice from ACO on sustainable water management around the House & Garden, then sign up for our mailing list here: