Domestic Soakaway
Award winning domestic soakaway
Drainage of surface water around any property is vitally important and with the right to connect to a sewer no longer automatic, effective soakaways are now a key part in the planning of any development. They are probably the most common form of surface water disposal for areas less than 100m2 .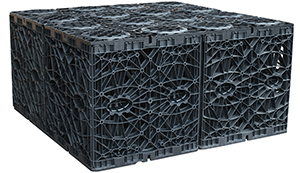 Manufactured from recycled and recyclable plastic, ACO StormBrixx is easy to handle and quick to install. Its high void ratio reduces the cost associated with traditional soakaways.
It is important to note that Building Regulations Part H3 states that any soakaway should be installed at minimum 5 metres away from any building line (e.g. foundations).
ACO StormBrixx provides the installer with added assurance for an effective long life solution.
Features
High stength ribbed columns
Lightweight design for easy manual handling and fast installation
Weep holes provided to maximise void ratio
Benefits
High void ratios - 95%
Two injection moulded bodies clip together to form one single tank unit
Recommended Applications
Driveways
Patios
Private and public parking
Residential developments
Not Recommended Applications
ACO tips
Back to basics: an introduction to geocellular structures
The issue of water attenuation is an increasingly hot topic, with more occurrences of extreme weather patterns being experienced across the UK. This is placing drainage at the heart of construction projects.
StormBrixx for Civils + Infrastructure projects
If you're looking to use StormBrixx for Civils + Infrastructure projects, please see the dedicated page here: