Drainage for your patio
Domestic patio drainage and landscaping systems
Finish your patio and protect your property with ACO's complete range of channels, and accessories. To ensure you've got the perfect system, that's easy to install and maintain.
The product range provides homeowners with a drainage solution that perfectly complements any style of patio project from slate to natural stone.
Then go for the perfect finish. Using our 'Complete the look' range, designed to be used with ACO's best-selling domestic drainage channels ACO HexDrain® and ACO RainDrain®, you can pick from a wide choice of stylish gratings ranging from contemporary stainless steel to discreet slot options. All available to provide the perfect finish.
N.b If you have a raised or suspended patio, please also take a look at our Terrace + Balcony product options
ACO tools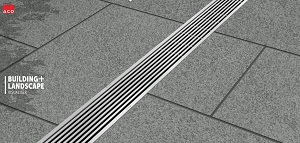 Use our free visualiser tool
Or scroll down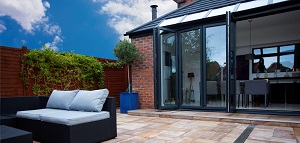 Complete the Look
ACO offer a range of different gratings for our best-selling ACO HexDrain and ACO RainDrain channels, enabling the perfect finish.
ACO tips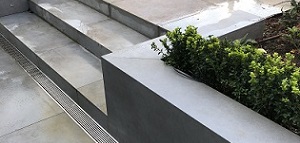 5 Key Considerations of Paving Drainage
Standing water in paved areas is not only an eye sore but it can also be a major safety hazard. Here, Our very own Neil Higgins, Product Training Manager at ACO Water Management, provides his top tips when considering drainage for paved areas
ACO product options
For patio drainage ACO has several different options for you to consider, your local merchant or landscaper should be your first point of contact for any questions you might have pertaining to your own project. In addition ACO has a comprehensive support offering. Just askACO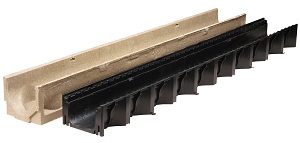 Standard channels
These channels are often simpler to install and easier to access for cleaning. We offer drainage channels in a variety of materials either Vienite ACOs proprietary polymer concrete mix that uses recycled content or Polypropylene with several options containing recycled content. We offer both material choices in a range of load classes and with a variety of grating options. See the Complete the Look link below to find out more information on the gratings available.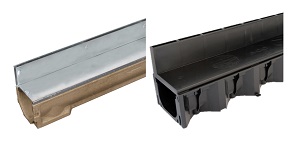 Brickslot channels
These channels offer a discreet aesthetic. We offer Brickslot channel tops in two different materials, either polypropylene or galvanised steel. Our polypropylene option is built up to a load class A 15 channel, our galvanised steel option when used with our RainDrain channel is built up to load class B 125. For more information on load classes, see the link below. For higher load classes that B 125 please take a look at our Civils + Infrastructure range.
Don't Forget
It's important to use a sump unit / Silt trap with any system, to prevent leaves and other debris blocking up your system. We have options for this and a range of other accessories available for all channels.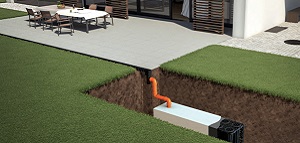 Where will the water go?
If you're collecting water, you need to take it somewhere. ACO StormBrixx – Is an ideal option for creating a water infiltration tank, either under your patio, driveway or garden, to allow your rainwater to soakaway within the boundary of your property. Please ensure wherever you drain to meets the relevant building standards or local legislation. You may need permission if you want to connect your drainage to your household waste water systems.
ACO Building + Landscape visualiser
To use the Building + Landscape Visualiser tool, just select the system, style and material. Then match with your 'surface finish'.
You can then download your visulaisation as a pdf.
Featured downloads
To download the above brochure, please click the link below.
ACO products
Need inspiration?