Drainage for your patio
DOMESTIC PATIO DRAINAGE AND LANDSCAPING SYSTEMS
Finish your patio and protect your property with ACO's complete range of channels, and accessories. To ensure you've got the perfect system, that's easy to install and maintain.
The product range provides homeowners with a drainage solution that perfectly complements any style of patio project from slate to natural stone.
Then go for the perfect finish. Using our 'Complete the look' range, designed to be used with ACO's best-selling domestic drainage channels ACO HexDrain® and ACO RainDrain®, you can pick from a wide choice of stylish gratings ranging from contemporary stainless steel to discreet slot options. All available to provide the perfect finish.
ACO TOOLS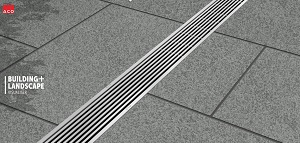 Use our free visualiser tool
Our visualiser tool will help you see what the range of different ACO drainage channels could look like in with different surface finishes on your patio, or in different locations.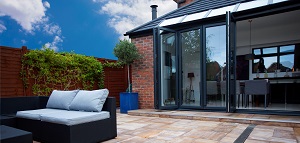 Complete the Look
Did you know ACO offer a range of different gratings for our best-selling HexDrain and RainDrain channels enabling the perfect finish.
ACO TIPS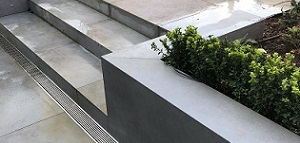 5 Key Considerations of Paving Drainage
Standing water in paved areas is not only an eye sore but it can also be a major safety hazard. Here, Our very own Neil Higgins, Product Training Manager at ACO Water Management, provides his top tips when considering drainage for paved areas
Which product to choose?
ACO offers a wide range of drainage channels and surface water management solutions. Here are some of our key options for patios. Please get in touch if you need anymore help making a selection of which product is right for your project.
Brickslot drainage channels

RainDrain Brickslot B 125 drainage channel
ACO RainDrain Brickslot B 125 channel is a popular drainage channel option for patios. It's galvanised steel slot top style grating is a discreet option for achieving the perfect finish
Traditional channel and grating drainage channels

RainDrain drainage channel
ACO RainDrain channels are made from Vienite, ACO's high strength polymer concrete material, ideal for a range of domestic applications. We also have a complete range of accessories allowing for quick and easy installation.

Eyeleds drainage channel
The ACO Eyeleds domestic drainage channels have integrated blue or white LEDs for the most impressive finish, day or night.
FEATURED DOWNLOADS


Need inspiration?
See what others have achieved using ACO products

Garden designers and landscapers we have a page just for you
If you want tips and inspiration from world leading garden designers, and inspiration of how to handle changing customer needs.

Builders and domestic contractors we have a page just for you
If you want inspiration, advice or to see the latest 'How to' videos. Take a look here.