BorderGuard
Lightweight rapid paviour haunching system
Manufactured from 100% recycled materials, ACO BorderGuard is light and easy to work with, offering rapid and simple installation.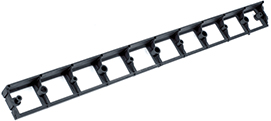 Once installed, the slim vertical edge is virtually invisible as it is hidden by soil or lawn. ACO Borderguard can be used with any choice of ground covering whether it is lawn, flowerbed or bark chips.
Installation is far faster than with concrete haunching and, unlike traditional methods, allows you to grow grass or bedding plants right to the edge of your paving, making the most of your garden and eliminating unsightly concrete.
Features
Lightweight design for fast and simple installation
Supplied in 1m lengths
Reinforced structure for greater strength and durability
Five 16mm fixing holes per length for use with synthetic nails
Flexible design can be used to create straight lines, curves and 90 degree angles
Benefits
Manufactured from recycled plastic
Units clip together for quick and simple on-site fabrication
Six 8mm fixing holes for ordinary steel nails
Easy to cut
Can also be used with ACO GroundGuard
Recommended Applications
Block Paving
Driveways
Lawns
Not Recommended Applications
Car Parking Areas
Residential Developments
Threshold Drainage
BorderGuard Accessories