Garage Entrance Drainage
Creating the perfect garage threshold
The ACO range of stylish and modern drainage solutions enhances the threshold of any garage entrance, helping to keep water from penetrating your garge. The products are tested to the highest performance standards and are quick and easy for to install.
We offer a wide range of solutions from discreet brickslot, through to channels with integrated LED lights.
Take a look at our visualiser tool and Complete the Look range to find your perfect finish.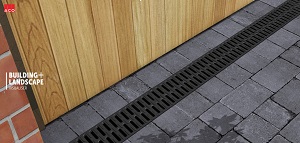 Use our free visualiser tool
ACO has a wide range of drainage solutions suitable for garage entrances. Using our visualiser tool, you can see what they could look like when installed with different materials.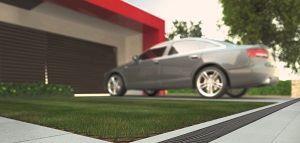 Complete the Look
ACO offer a range of different gratings for our best-selling ACO HexDrain and ACO RainDrain channels, enabling the perfect finish.
Which product to choose?
ACO offers a wide range of products as can be seen below. Here are some of the key features to look out for:
Load Class
Please see the Load Class download in the download section below.
Brickslot or channel & grate drainage systems

Brickslot drainage channels
Brickslot channel systems are defined by a discrete slot as opposed to a grating. This means a discreet system, but must be installed with an access point for maintenance.

Grated drainage channels
This more traditional system, is easier to access and can mean a wide range of grating options to meet the stle and design requirements for the project.
Featured downloads