HexDrain Garage Pack
drainage channel pack for garage thresholds
Manufactured from recycled polypropylene, ACO HexDrain Garage Pack contains all components required to install a drainage system across a garage threshold.
The pack contains three ACO HexDrain Channels with Black Plastic gratings, two closing end caps, a vertical outlet and a leafguard, with printed instructions on both the pack and the channel itself.
Designed to be easy to handle, the pack is wrapped in a waterproof cover and provides minimal packaging waste.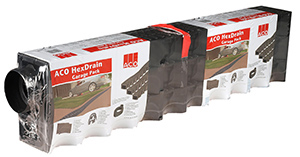 Pack Contains:
Recommended Applications
Not Recommended Applications
Related Products