GravelGuard
Ground reinforcement tile for gravel stabilisation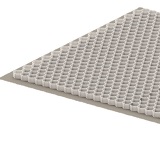 Manufactured from polypropylene, ACO GravelGuard stabilises gravel for pedestrian and vehicle access making the system ideal for driveways, paths and shed bases.
The incorporated geo-textile helps to reduce weed growth and speeds up installation.
Correctly installed, ACO GravelGuard is suitable for loads up to 300 tonnes per square metre when filled, more than enough for its applications.
The ACO GravelGuard is designed to be installed with gravel 3-16mm in diameter, thanks to its large 47mm mm diameter honeycomb modules.
The large tile size is 1176 x 1535 mm, which means one tile is 1.8 m², 10 m² can be covered with 5.6 tiles, or a pallet of 17 tiles will cover 30.68 m².
The ACO GravelGuard is available in two options: GravelGuard White (281093) and GravelGuard Grey Eco (281095). The Grey Eco tile is made from 100% recycled polypropylene.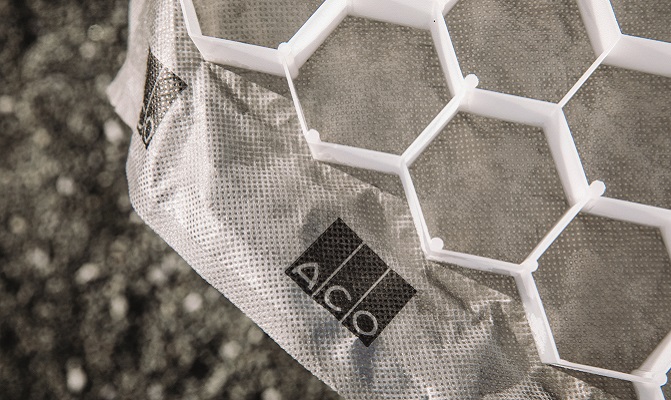 You know it's ACO when you see the ACO logo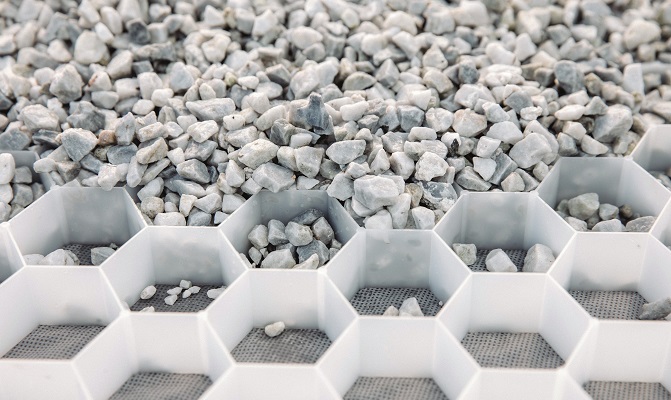 GravelGuard can take gravel 8 - 16 mm
Features
Product design ensures easy handling and installation
Geotextile is firmly and perfectly bonded to the honeycombs of the tile
Offers unimpeded flow to surface water
Manufactured from 100% polypropylene
The fabric-like geotextile can be cut easily and neatly without fraying
Benefits
Robust system for loads up to 40tm/2
Honeycombs of Ø 47 mm allow the usage of standard 8-16 mm gravel
Tiles can be easily cut to shape for irregular edging
Lightweight product design
Not Recommended Applications
GravelGuard ECO tile option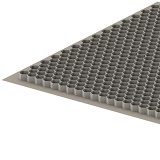 GravelGuard grey eco option
The ACO GravelGuard eco grey tile (281095) has all the same features as the GravelGuard white (281093), however it is made from 100% recycled polypropylene and comes in an off-white grey colour.
The large tile size is 1176 x 1535 mm, which means one tile is 1.8 m² - 10 m² can be covered with 5.6 tiles. Available to merchants in pallets of 17 which covers 30.68 m².
Certified environmental performance
"Blue Angel" – A German Ecolabel
Category: Environmentally friendly recycled plastics
Recycled plastic – a plastic with a past and a future
100 % made from post-consumer waste
Strict controls and monitoring of external production and raw materials
ACO GravelGuard case studies:
Frances Tophill's Show Garden: Grounded in sustainability with ACO GravelGuard
With sustainability being the key theme for 2022's BBC Gardeners' World Live at the NEC in Birmingham, Frances Tophill, well known horticulturist, author and television presenter for BBC Gardeners' World, had set her sights on making her debut show garden at the event "as sustainable as it possibly can be".
Rupert Keys, Managing Director at Keyscape Landscape Design & Construction and founder of landscape training company TASK Academy, along with Ruth Gwynn Associates, landscape architect, garden designer and horticulturist, were handed the mission of delivering Frances' vision, and constructing her eventual award-winning garden. With a strict remit of using only locally sourced, recycled and reclaimed materials where possible, Rupert turned to ACO for advice on how this could be achieved when stabilising the recycled aggregate around the space.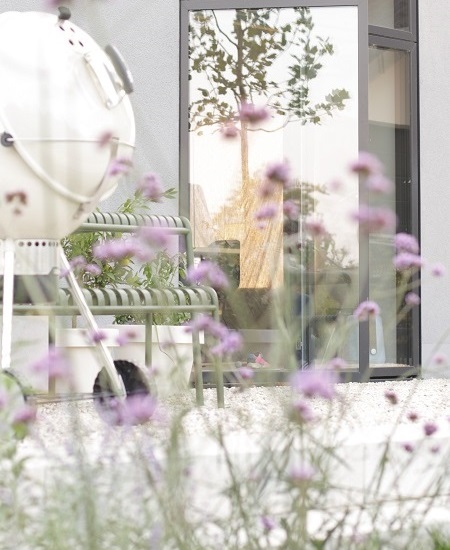 Why offer the Grey Eco option?
ACO talked with Ulli Becker instagram home design influencer about the need for a gravel stabilisation tile around her home and how the ACO GravelGuard Grey Eco option worked for her.
"Outside we want it to be very natural."
Ulli says she opted for a natural garden for her modern house. A highlight is the terrace, which is not made of paving stones or tiles, but consists of an loose gravel surface: "At first we didn't have a honeycomb under the gravel. That didn't work for us as it feels like walking through the soft sand on the beach. With the honeycomb it is now much more stable and everything doesn't slide away any more. "
With more and more home owners seeing the value of the outdoors and even more conscious on how their actions can affect the environment around them, a porous solution like the ACO GravelGuard, can help allow water on site to soak into the ground, rather than being sent off into the sewers. At the same time being made from 100% recycled content is helping preserve natural resources.
Applications and advice

Driveway drainage
Click the image above to learn more about driveway drainage options and tips from ACO.

Garden designers and landscapers we have a page just for you
If you want tips and inspiration from world leading garden designers, and inspiration of how to handle changing customer needs.