GravelGuard
Ground reinforcement tile for gravel stabilisation
Manufactured from polypropylene, ACO GravelGuard stabilises gravel for pedestrian and vehicle access making the system ideal for driveways, paths and shed bases.
The incorporated geo-textile helps to reduce weed growth and speeds up installation.
Correctly installed, ACO GravelGuard is suitable for loads up to 300 tonnes per square metre when filled, more than enough for its applications.
The ACO GravelGuard is designed to be installed with gravel 3-16mm in diameter, thanks to its large 47mm mm diameter honeycomb modules.
The large tile size is 1176 x 1535 mm, which means one tile is 1.8 m², 10 m² can be covered with 5.6 tiles, or a pallet of 17 tiles will cover 30.68 m².
Recommended Applications
Not Recommended Applications
ACO GravelGuard key features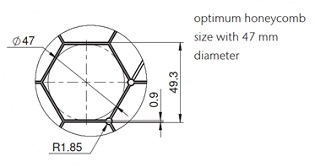 ACO GravelGuard honeycomb shape
The ACO GravelGuard 47mm diameter size, means it can accomodate a wide range of different stones and gravels. From 3 - 16mm diameter.
ACO GravelGuard ground stabilising points
Using the ACO ground stabilising points incorporated within the tile, the tiles can be pinned down, making it suitable for gradients up to 10% (24 pins needed per tile) 12 pins needed per tile for up to 5% gradient
For pins we recommend ACO part number 81073 - ACO 180 mm steel nails.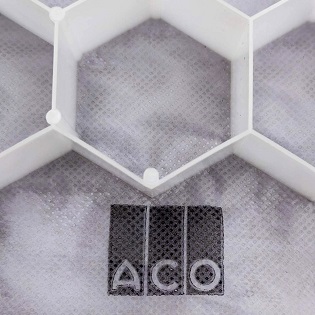 ACO GravelGuard membrane
The incorporated attached and branded ACO geotextile or membrane is also made from polypropelen and easy to cut to shape.
By having this weed membrane attached under the honeycomb GravelGuard tiles it speeds up installation, by not having to install a seperate membrane. Thanks to this membrane it is difficult for weeds to take root in the gravel and the result is a permanently beautiful and very easy to maintain surface.
ACO GravelGrid product and installation images
Featured downloads
Related products