HexDrain
Drainage channel for domestic applications
Manufactured from recycled polypropylene, ACO HexDrain is suitable for domestic applications up to Load Class A 15 - Pedestrian, cycleways, minimally trafficked areas (light domestic vehicles only).
The high quality ACO HexDrain channels clip together, allowing for quick and easy installation.
ACO's range of elegant and modern 'Complete the Look' gratings are available to provide choice and style to driveway and patio projects. A choice of eight gratings are available to provide the perfect finish: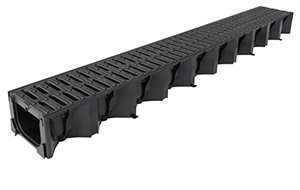 Product overview video
Recommended Applications
Not Recommended Applications
ACO HexDrain accessories
How to install video
ACO tips
If your channels look like the ones shows on this page and have the following features:
Then you've got ACO HexDrain A15 installed
If you'd like to remove the grate for:
You can do this with a coat hanger. *please also wear relevant safety equipment, gloves are recommended
Lifting the grate
Ensure nothing is resting on top of the grate.
Insert the loop of the coat hanger in one end if the grate.
Lift the grate.

Replacing the grate
To replace the grate, just lay it back in place, and press back in.

Related products