ACO Inspirational Ideas
See what others have done with ACO products
On this page we'll share with you some great images from some of our favourtie case studies and images of ACO Building + Landscape products installed from across the UK and Ireland, and around the world.
If you're an installer or home owner and think you've got a project worth sharing on this page, we'd love to hear from you. Please email us on the link below.
Silver How
Developing a house worthy of the prestigious RIBA House of the Year shortlist is no mean feat. It requires every intricate detail to be well thought through, from the choice of tile to the drainage infrastructure. When a team of award-winning architects required a discrete drainage solution that would support the bold, seamless transition from the inside of a home to the outside, it turned to ACO Water Management for support.
Fracture
Award winning garden design and construction company Langlea, used ACO HexDrain Brickslot around the pool on this striking contemporary family home.
ACO TOOLS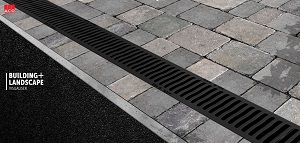 Use our free visualiser tool
Use our visualizer tool, to see how different channels, could work with different surface finshes around a property
Line
When managing a small space, this details need to be perfect and high performing. Award winning landscape and garden design company Langlea, used ACO HexDrain Brickslot on this great outdoor space
ACO TOOLS
Complete the Look
See some of the huge range of gratings and finishes ACO can offer within their Building + Landscape range, to help you achieve the perfect finish.
Greenhouse
This owners of this Greenhouse and vegetable patch, wanted to ensure the gravel stayed in place to maintain asthetcis and function. They used ACO GroundGuard to help achieve this perfect finish.
Sky Gardens
These inspiring roof top gardens are nestled in central london between the 'Gerkin' of city hall and St. Pauls Cathedral. They use RainDrain B 125 to manage the surface water and foot traffic.
Contrast
The team at Paul Newman landscapes wanted to create the high contrast patio area, using Black Threshold Drain to maintain this amazing design with practical functionality.
Thai Forrest
When you've made a stunning landscape that slopes all the way bown to your back door, you need to ensure that water is being brought into the building with the view. Langlea use ACO HexDrain Brickslot to help to maintain the asthetics and keep the water out.
ACO TIPS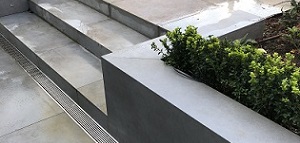 5 Key Considerations of Paving Drainage
Standing water in paved areas is not only an eye sore but it can also be a major safety hazard. Here, Our very own Neil Higgins, Product Training Manager at ACO Water Management, provides his top tips when considering drainage for paved areas
FEATURED DOWNLOADS
To download and view in more details, please click the link below.