HexDrain Brickslot
Discreet slot drainage channel for domestic applications
Manufactured from recycled polypropylene, ACO HexDrain® Brickslot is suitable for pedestrian and vehicle traffic up to Load Class A 15.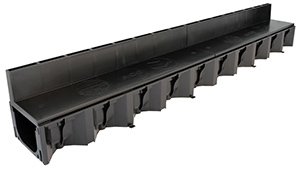 The high quality ACO HexDrain Brickslot channels clip together, allowing for quick and easy installation.
The channel comes complete with an offset slotted grating, ideal for block paving up to and including 60mm.
A full range of accessories are available, designed to aid simple and fast installation.

Product overview video
Features
Offset slot enables drainage location adjacent to walls and door thresholds
Installation guide clearly marked on the brickslot grating
Discreet 10mm inlet slot tapered to prevent blockage
Cutting guide to create half metre channels
UKCA and CE Marked and fully certified to Load Class A 15 BS EN 1433:2002
Benefits
Channels clip together for quick and easy installation
Suitable for use in Building Regulations Part M compliant installations in England and Wales and Building Standards Section 4 compliant installations in Scotland
Debris guard stops the ingress of sand and cement between units during installation
Offset grating ideal for use with block paving up to 60mm
Recommended Applications
Garage Thresholds
Patios and Paths
Pedestrian Precincts
Block Paving
Not Recommended Applications
HexDrain Brickslot accessories
ACO Tips
Application areas