Threshold Drain
Slimline domestic level threshold door drainage
Manufactured from extruded plastic with an aluminium or steel grating, ACO Threshold Drain eliminates water ponding at house entrances, or around your patio.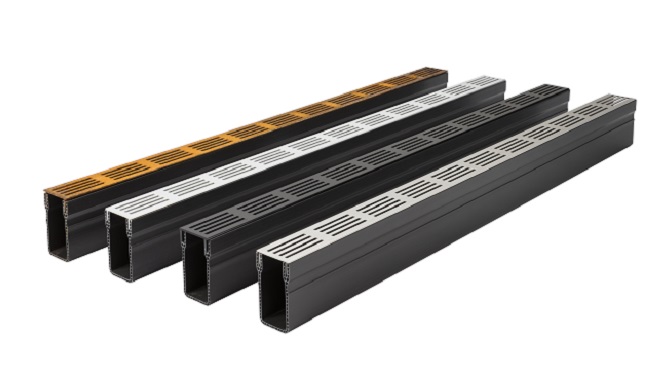 ACO Threshold Drain comes complete with either a silver or black aluminium, CorTen steel or stainless steel Heelguard grating suitable for pedestrian traffic.
The discreet system has a width of 60mm and is available in 1m lengths.
With a range of accessories available from corner units to ø110mm vertical outlets, it is now possible to use as part of a modern patio drainage system.
Suitable for use in Building Regulations Part M compliant installations in England and Wales and Building Standards Section 4 compliant installations in Scotland.
New additions to the range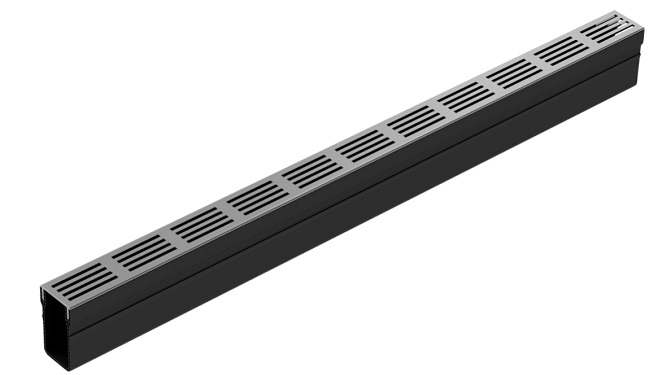 New Threshold Drain Stainless Steel
ACO Threshold Drain channels and corner units with stainless steel grate
A one-metre channel and corner unit are now available. All of the current Threshold Drain accessories can be used on these new items.
Using grade 316 stainless steel on the visible parts of the grate to ensure a long life performance and grade 304 stainless steel used for functional elements underneath the channel.
This means the grate delivers a quality finish perfect for building thresholds and patios.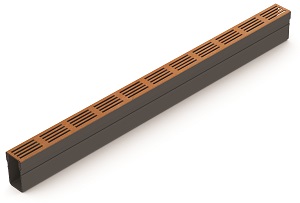 New Threshold Drain CorTen
ACO have launched an additional Threshold Drain in a new CorTen finish.
The patina finish is being seen more and more in high-end garden and landscape projects, with products from planters to walls being offered by a range of manufacturers, the finish can enhance a space and textures felt and seen within it.
There are some specifics to consider when using this finish on a product; CorTen develops its characteristic rusty appearance after it has been exposed to rainwater, therefore new stocks may look black when first delivered. This surface, the so-called patina, is an oxidation layer that protects the metal from further corrosion. During formation of the patina, the rainwater may also get a rusty brown colour and therefore can leave stains when it comes into contact with other (porous) surfaces.
It is of great importance to install the channel 3-5mm below the adjacent paving level, such that during heavy rainfall, no water will flow back on the paving. When using very porous paving material and/or light coloured paving, it is recommended to allow the CorTen gratings to corrode on a safe location and only install them on the channels when the patina has fully developed.
ACO bears no responsibility for stains on paving when using CorTen gratings. In case of doubt, we recommend to use our aluminium gratings with this channel.

Features
Quick and easy installation
Removable Heelguard aluminium grating available in silver or black
Modern styling
Outlet available for connection to underground drainage
UKCA and CE marked and fully certified to Load Class A 15 BS EN 1433:2002
Benefits
System ideal for use with 60mm block paving
Body of the unit manufactured from extruded plastic
Suitable for use in Building Regulations Part M compliant installations in England and Wales and Building Standards Section 4 compliant installations in Scotland
Recommended Applications
Patios and Paths
Level Thresholds
Block Paving
Not Recommended Applications
Threshold Drain accessories
Application areas