Threshold Drain
Slimline domestic level threshold door drainage
Manufactured from extruded PVC and aluminium, ACO Threshold Drain eliminates water ponding at house entrances.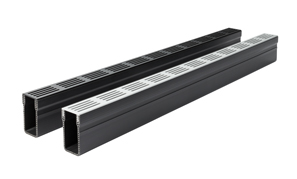 ACO Threshold Drain comes complete with either a silver or black aluminium Heelguard grating suitable for pedestrian traffic.
The discreet system has a width of 60mm and is available in 1m lengths.
With a range of accessories available from corner units to vertical outlets, it is now possible to use as part of a modern patio drainage system
The system is compliant with Part M of the Building Regulations for England and Wales and Section 4 of the Scottish Building Standards
Recommended Applications
Not Recommended Applications
THRESHOLD DRAIN ACCESSORIES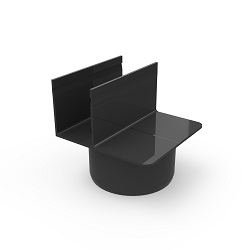 New ACO Threshold Drain ø110mm Bottom Outlet
The new ACO Threshold Drain ø110mm Bottom Outlet, has
an offset positioning to allow for the drainage channel to be
positioned adjacent to the building, while still connecting to
a ø110mm pipe system without the need for extra shims
or converters.
ACO TIPS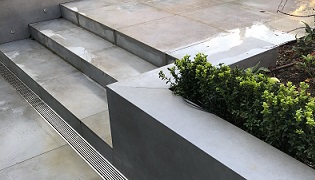 5 Key Considerations of Paving Drainage
Standing water in paved areas is not only an eye sore but it can also be a major safety hazard. Here, Our very own Neil Higgins, Product Training Manager at ACO Water Management, provides his top tips when considering drainage for paved areas
FEATURED DOWNLOADS
Preview our complete Building + Landscape range brochure above.
Click the link below to download.
Related Products
Need Inspiration?