StepDrain
Slimline domestic level threshold door drainage
Manufactured from galvanised and stainless steel, ACO StepDrain eliminates water ponding at house entrances.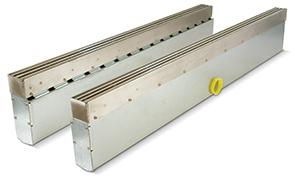 ACO StepDrain comes complete with a corrosion resistant 304 stainless steel Heelguard grating suitable for pedestrian traffic.
The system is available in two sizes (940mm and 1088mm) making it ideal for almost any door size.
Suitable for use in Building Regulations Part M compliant installations in England and Wales and Building Standards Section 4 compliant installations in Scotland.

Features
Quick and easy installation, door frame does not need to be cut to install system
Sub-surface drainage inlets
Silt bucket provided for ease of maintenance and cleaning
Outlet for 40mm waste pipe
Benefits
Available in two channel lengths, 940mm and 1088mm
Body of the unit manufactured from galvanised steel
System ideal for use with up to 100mm block paving
Frame manufactured from grade 304 stainless steel
Removable Heelguard grating manufactured from grade 304 stainless steel
Suitable for use in Building Regulations Part M compliant installations in England and Wales and Building Standards Section 4 compliant installations in Scotland
Recommended Applications
External Level Thresholds
Not Recommended Applications
Landscaping
Driveways
Car Parking Areas