Threshold Drain
Slimline domestic level threshold door drainage
Manufactured from extruded PVC and aluminium, ACO Threshold Drain eliminates water ponding at house entrances.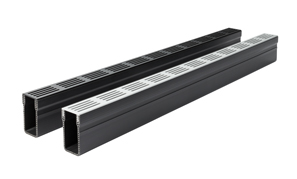 ACO Threshold Drain comes complete with either a silver or black aluminium Heelguard grating suitable for pedestrian traffic.
The discreet system has a width of 60mm and is available in 1m lengths.
With a range of accessories available from corner units to vertical outlets, it is now possible to use as part of a modern patio drainage system
The system is compliant with Part M of the Building Regulations for England and Wales and Section 4 of the Scottish Building Standards
New ACO Threshold Drain with CorTen finish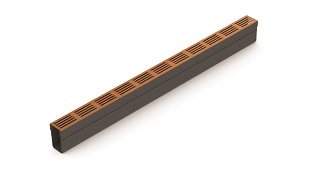 New ACO Threshold Drain CorTen channel and corner unit
ACO is proud to announce the launch of an additional Threshold Drain in a new CorTen finish. All of the current Threshold Drain accessories can be used on these new items.
The patina finish is being seen more and more in high-end garden and landscape projects, with products from planters to walls being offered by a range of manufacturers, the finish can enhance a space and textures felt and seen within it.
Please see note at the bottom of this page about using CorTen
Please see the gallery below for the 3 different finishes ACO Threshold Drain is now available in.
Recommended Applications
Not Recommended Applications
ACO Threshold Drain accessories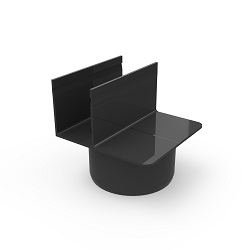 New ACO Threshold Drain ø110mm Bottom Outlet
The new ACO Threshold Drain ø110mm Bottom Outlet, has
an offset positioning to allow for the drainage channel to be
positioned adjacent to the building, while still connecting to
a ø110mm pipe system without the need for extra shims
or converters.
ACO tips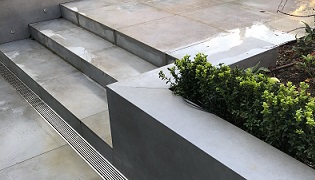 5 Key Considerations of Paving Drainage
Standing water in paved areas is not only an eye sore but it can also be a major safety hazard. Here, Our very own Neil Higgins, Product Training Manager at ACO Water Management, provides his top tips when considering drainage for paved areas
Featured downloads
Preview our complete Building + Landscape range brochure above.
Click the link below to download.
Related products
Need inspiration?
CorTen details
There are some specifics to consider when using this finish on a product; CorTen develops its characteristic rusty appearance after it has been exposed to rainwater, therefore new stocks may look black when first delivered. This surface, the so called patina is an oxidation layer that protects the metal from further corrosion. During formation of the patina, the rainwater may also get a rusty brown colour and therefore can leave stains when it comes into contact with other (porous) surfaces.
It is of great importance to install the channel 3-5mm below the adjacent paving level, such that during heavy rainfall, no water will flow back on the paving. When using very porous paving material and/or light coloured paving, it is recommended to allow the CorTen gratings to corrode on a safe location and only install them on the channels when the patina has fully developed.
ACO bears no responsibility for stains on paving when using CorTen gratings. In case of doubt, we recommend to use our aluminium gratings with this channel.