Eyeleds
lighting and drainage system for domestic applications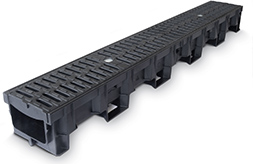 Manufactured from recycled polypropylene, ACO Eyeleds combines attractive lighting options with efficient surface water drainage for driveways, patios and pedestrian precincts.
Channels are available with 2 Eyeled gratings or with 1 Eyeled and 1 standard B 125 composite grating with a choice of white or blue LED
The ACO Drainlock grating has a bar-less locking device, allowing for quick and simple installation of gratings.
A full range of accessories are available, designed to aid simple and fast installation.
Features
Channels available with 2 Eyeled gratings or with 1 Eyeled and 1 standard B 125 composite grating
Choice of white or blue LED
One LED provided per 500mm ACO Eyeled grating
Full range of channel accessories available including end caps, outlet connectors and sump units
Heelguard grating with 8mm slots
ACO Drainlock grating - this bar-less locking device allows quick and simple installation of gratings
UKCA and CE marked and fully certified to Load Class B 125 BS EN 1433:2002
Benefits
Vertical knockout for connection to PVC-U pipe or sump via outlet connectors
Male and female channel connections clip together for quick and easy installation
100mm overall channel depth
Each ACO Eyeled grating comes complete with a watertight cable connection (IP67)
Environmentally friendly product - manufactured from recycled polypropylene and 100% recyclable
Approx 100,000 hours working life
Recommended Applications
Driveways
Patios
Pedestrian Precincts
Block paving
Not Recommended Applications
Eyeleds Accessories