DoorWay Drain
Unobtrusive high quality domestic threshold drainage
Manufactured from recycled polypropylene, ACO DoorWay Drain eliminates water ponding at house entrances.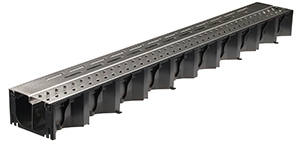 ACO DoorWay Drain comes complete with a two piece, corrosion resistant, Heelguard grating, suitable for pedestrian traffic.
The high quality channels clip together for quick and easy installation.
This product is suitable for use in Building Regulations Part M compliant installations in England and Wales and Building Standards Section 4 compliant installations in Scotland.

Features
UKCA and CE marked and fully certified to Load Class A 15 BS EN 1433:2002
Heelguard friction fit grating
Two piece stainless steel gratings with brush effect finish
Benefits
Multiple drainage runs can be achieved by simply clipping the units together
Suitable for use in Building Regulations Part M compliant installations in England and Wales and Building Standards Section 4 compliant installations in Scotland
Recommended Applications
External Level Thresholds
Not Recommended Applications
Landscaping
Driveways
Car Parking Areas
Related products