Commercial & Industrial
Factories / Hotels / Offices / Airports / Car Parks / Railways / Chemical / Pharmaceutical
We recognise that whether you're looking for a channel drainage system for an industrial or commercial facility or a national landmark, the drainage you choose needs to complement the building's design and look as good as it performs. That's why, in addition to our vast range of drainage channels and accessories, we have a specialist drainage design team on hand to help ensure you get a drainage system that looks good, is highly durable and meets all of the drainage requirements for your project.
Featured Downloads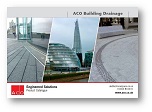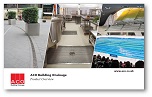 ACO Product Overview Brochure
A complete overview of the ACO Building Drainage range including for commercial buildings, wetrooms, balconies, blue/green roofs, grease management systems and our drainage design service.
Download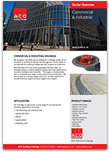 Commercial & Industrial Products
Logistics facilities
Internal/External floor drainage