Commercial Kitchens
Optimise cleaning, improve hygiene & manage FOG
Commercial kitchens are challenging environments in which to work. Whether you run a sizeable commercial kitchen or are the owner-manager of a small café, your choice of drainage and grease management solution can have a major impact upon operational costs, hygiene and health and safety.
Good drainage can improve kitchen hygiene by preventing the spread of bacteria, improving employee health and safety via the removal of a potential slip hazard, being quick and easy to clean, and can prevent the build-up of fats, oils and grease (FOG) in your drainage and the wider sewer system.
Mananging grease effectively through installation of a grease trap or separator enables you to avoid blocking up your kitchen drainage and losing time, money and business while having to organise drain unblocking.
Download our commercial kitchen brochure now
Drainage in the Commercial Kitchen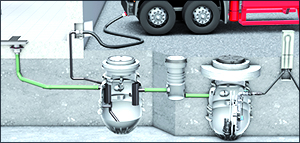 Grease Management
Fats, oils and grease (FOG) impact upon the performance of a kitchen's internal and external drainage system. ACO's grease management systems have a vital role to play in the responsible and efficient management of FOG.
To find a grease management solution to suit your establisment, try our simple grease product selector.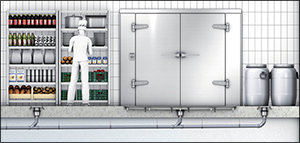 Storage & Preparation Area
Food storage areas will require occasional cleaning as part of a planned program and in case of spillage. In many cases the floor drain only needs to deal with low flow rates.The choice between channel and gullies is dependent on the nature of the operation. Gullies may be preferred, but where box channels are used, a narrow, shallow system with a built-in gradient is advantageous.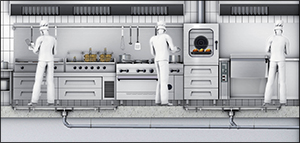 Production Area
The busy heart of the kitchen where there is the highest potential for slips and falls, requires the strategic positioning of floor drainage to aid in the removal of water that is being used in, or discharged from specialist cooking equipment such as Bratt Pans, boiling pans and combination ovens.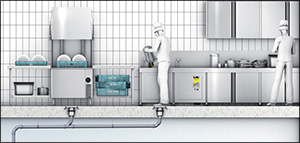 Washing Area
Where washing operations involve the removal of residual food, racking, pre-soaking, rinsing and washing stages, care must be taken to reduce the build-up of fats oils and grease in drainage plumbing. Installing a grease unit will be a vital piece of commercial kitchen equipment to ensure the smooth running of your business.
Featured Downloads
Commercial Kitchens Products