ACO RoofBloxx Cell
ROOF ATTENUATION FOR BLUE/GREEN ROOF APPLICATIONS
What is ACO Roofbloxx Cell?
ACO RoofBloxx cell is a lightweight high strength sub-surface drainage sheet that provides superior performance.
It provides heat and sound insulation whilst also acting as a waterproofing membrane protection layer. ACO RoofBloxx Cell eliminates the need for the use of heavy gravel aggregates for sub-surface drainage and screeds for waterproofing membrane protection in planter boxes and intensive roof gardens.
Featured Downloads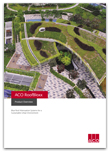 ACO RoofBloxx Brochure
Read this guide about how Blue Green Roofs can be designed to drain slowly in normal use and quickly in extreme conditions, using ACO RoofBloxx
Download
Watch the animation of our Patented Blue Roof Attenuation System that uses RoofBloxx Cell
Features
Design flexibility
Ultimate compressive strength 800kN/m2
Units interlock in any orientation
Top surface void ratio of 62%
ACO Blue Roof Flow Restrictor works with ACO vertical, and 45 and 90 degree roof outlets
Benefits
Lightweight and high strength
100% recyclable
Easy installation
Suitable for use beneath permeable and impermeable surfaces
Suitable for pedestrian and vehicular areas
Stackable without the need for shear connectors
Compatible with ACO roof outlets, downpipes and surface water drainage
Free technical design support
Recommended Applications
Active and passive blue roof applications
Green / 'living' roofs
Podium Decks
Paved areas and roadways
Related products