ACO LipuSmart
Grease separation and lifting in one solution
ACO LipuSmart products integrate the functions of grease separation, sampling, drainage using a lifting plant and a control system for the general system into one product.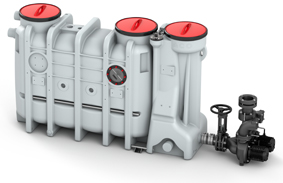 Pressure sensors monitor the level of the separator and lifting plant. The plant control unit analyses both sensors and shows the filling level with centimetre precision in the display. If necessary, pumps are switched on and off or the flood alarm is triggered.
The ACO air bubble injection in the separator and the lifting plant prevents the grease layer from hardening in the pneumatic pipe and causing blockages.
The flow of the LipuSmart pump equipment has been optimised by ACO in collaboration with the Institute for Process Machines and Plant Equipment (IPAT) to ensure optimum pump efficiency.
Product overview video
Features
Grease separator certified to BS EN 1825
Waste water lifting plant certified to BS EN 12050-2
4-in-1 solution
Range of products available for different applications
Innovative control system – optional Bluetooth or Modbus connection
Integrated sampling and sludge trap options available
Benefits
High performance and durability
Pump flow optimised by ACO and the IPAT
Guaranteed product stability for 25 years
Compact erection dimensions
Reduces risk of drain blockages
Free-standing erection in frost- free spaces
Only one vent stack required
Service and technical support available via ACO and its partners
Recommended Applications
Hotel kitchens
Restaurants
Hospital clinics & care homes
Large catering establishments
Factory and office canteens
University catering facilities
ACO LipuSmart range
LipuSmart P-OB
With full disposal:
Basic version empties via inspection opening
Extension 1 empties using direct suction
With partial disposal:
Optional manual or automatic version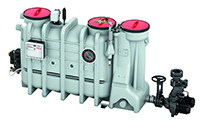 LipuSmart P-OA
With full disposal:
Extension 2 empties with manual high-pressure internal cleaning and optionally with an odour-free disposal pump
Can be supplied as oval, circular or split version for ease of delivery
With partial disposal:
Optional manual or automatic version
LipuSmart P-OAP
With full disposal:
Basic version empties via inspection opening
Extension 3 empties with automatic high-pressure internal cleaning and optionally with an odour-free disposal pump and remote control
Can be supplied as oval, circular or split versions for ease of delivery
With partial disposal:
Optional manual or automatic version
Featured Downloads
Related products