ACO RoofBloxx
ROOF ATTENUATION FOR BLUE/GREEN ROOF APPLICATIONS
What is ACO Roofbloxx?
ACO RoofBloxx is a complete roof attenuation system for blue, green and blue/green roofs. It enables engineers to create a blue or green roof drainage layer that gives architects the design flexibility required to create imaginative, multi-functional open green spaces at roof or podium level.
Comprising a shallow, high-strength, adjustable geocellular storage void and roof outlet flow control system, ACO RoofBloxx is fully compatible with ACO roof outlets, downpipes and surface water drainage systems. It can be used in different roof types e.g. as part of a warm roof construction.
When combined with the ACO Blue Roof Flow Restrictor, ACO RoofBloxx units can store rainwater at source to control surface water run-off. The system can also permanently store a percentage of the captured water for use in passive irrigation systems e.g. as part of a sedum roof.
Hydraulic design guidance is provided as standard by ACO's in-house technical design team.
ACO Roofbloxx is also ideally suited to be used as a base for rain garden design and is also suitable for use in SUDs planters
Watch our animation to see how RoofBloxx works as part of our Patented Blue Roof System
Your Urban Greening questions answered by experts in the ebook from our webinar series
To download a copy of our Urban Greening Webinar ebook please click the Brochure PDF files in the right column of this page. The ebook gives more expert opinion on Urban Greening, greening factors in planning, green roofs and how countries like Singapore have delivered in Urban greening.
Download our RoofBloxx brochure to learn about its application across different roof build ups.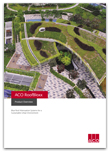 ACO RoofBloxx Brochure
Read this guide about how Blue Green Roofs can be designed to drain slowly in normal use and quickly in extreme conditions, using ACO RoofBloxx
Download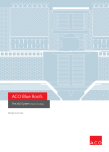 ACO RoofBloxx Design Guide
A Design Guide to the ACO RoofBloxx system showing the build ups for a variety of roof types. Don't forget we can help with calculations for any roof.
Download
Features
Modular polypropylene construction
Stackable geocellular units (in 40mm increments)
Three unit sizes (85mm, 125mm and 165mm depth)
Units interlock in any orientation
Internal void ratio of 90%
Top surface void ratio of 53%
ACO Blue Roof Flow Restrictor works with ACO vertical, and 45 and 90 degree roof outlets
Benefits
Modular structure for design flexibility
Ideal for use as a base for rain garden design
Suitable for use in SUDs Planters
Shallow, high strength design (800KN/m²)
Adjustable storage depth
Suitable for pedestrian and vehicular areas
Stackable without the need for shear connectors
Suitable for use beneath permeable and impermeable surfaces
Passive irrigation attainable with capillary wick
Compatible with ACO roof outlets, downpipes and surface water drainage
Free technical design support
100% recyclable
Recommended Applications
Active and passive blue roof applications
Green / 'living' roofs
Blue/green roof applications with or without passive irrigation systems
Roofing systems that form part of a podium deck or green roof system
Related products