GM-X Pipe
Galvanised steel pipe and fittings system
ACO's GM-X pipe range of socketed galvanised steel pipe products is designed for external applications, such as rainwater drainage, where a robust and highly durable system is required.
GMX Pipe has a two-stage socket design utilising the GMX seal to provide rigid and solid, buckle-proof connection of fittings, guaranteeing joint tightness.
ACO GM-X pipe is available in different lengths and a choice of eight different diameters ranging in size from 32mm to 200 mm. GM-X pipe is compliant with BS EN 1123 and ACO also provides a range of accessories including angled bends, single, double and corner branches, connectors and brackets.
Features
Option for vacuum connection with VACplus seal
Rigid, buckle-proof connections
Two-stage socket design with wide range of seals
Benefits
Confirms to EN 1123
Lightweight and easy to install
Robust and highly durable
Highly corrosion resistant
Recommended Applications
Car parks
Railways stations and bus terminals
Wide range of commercial and industrial applications
Featured Downloads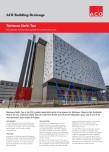 Telehouse North Two Case Study
Telehouse North Two is the fifth London-based data centre to be opened by Telehouse. ACO Building Drainage delivered a stainless steel pipe solution within the given timeframe and budget.
Download
Related products