Hygiene First
drainage that delivers hygienic performance.
As one of the world's leading commercial drainage specialists, ACO understands the critical role that drainage plays in a successful commercial food preparation business. We appreciate that food safety, hygiene and cost control are all vital factors yet we also understand that for many, drainage is out of sight and therefore out of mind.
Products designed with hygiene in mind
ACO offers sustainable and integrated drainage systems designed to protect your business and environment. Our aim is to constantly improve every aspect of operational safety, hygiene and functional performance to meet the applicable standards for food processing application.
We are committed to deliver unparalleled benefits to anyone involved in the project specification, installation and subsequent operation of food processing and production applications. ACO HygieneFirst drainage systems fulfil the stringent hygienic requirements to minimise harmful bacteria and pathogen contamination of food arising from drainage elements by applying relevant hygiene design principles reserved for food contract surfaces by the implementation of BS EN 1672, BS EN ISO 14159 and EHEDG Document 8 requirements to drainage element design.

Commercial Kitchens
All commercial kitchens can be characterised as a hazardous working environment - they are extremely busy with the potential for wet and greasy floors due to the abundance of fluids in both cooking and cleaning - and they are hot!

Food & Drink Manufacturing
Food touches every single individual on the planet in various aspects: health, pleasure, socialization, etc. More broadly food safety and access to food are fundamental prerequisites for public health, social stability but are also paramount for business sustainability and profitability.
We put hygiene first
Featured Downloads
HygieneFirst Catalogue (19MB)
Hygienic Drainage for Food Processing & Commercial Kitchen Applications
HygieneFirst Philosophy (1.7MB)
ACO is committed to providing drainage systems that deliver the ultimate hygienic performance and help end users put hygiene first.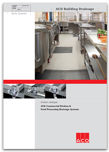 Commercial Kitchen + Food Processing Drainage (2.4MB)
Kitchen Channel Systems are used in applications where hygienic, corrosion and durable drainage performance are essential.
Hygiene First Products