ACO Blue Roof Flow Restrictor
ACO BLUE ROOF FLOW RESTRICTOR
The ACO Blue Roof Flow Restrictor is a roofing outlet that controls the rate of rainwater run-off from a blue or green roof. The design of each restrictor is tailored to meet project-specific requirements and for use with the ACO range of roof outlets and accessories.
ACO's in-house design team will calculate the size of restrictor required and provide technical advice and guidance throughout the life of your project.
Outlet Restrictor Features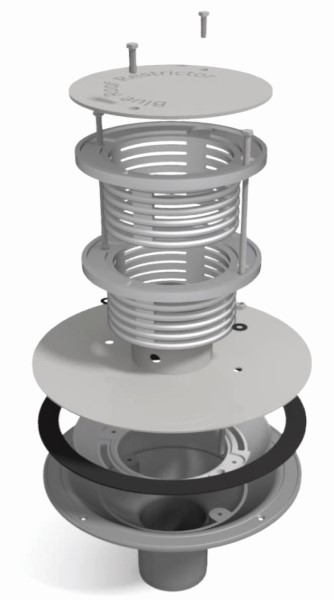 ONE
Manufactured from from corrosion-resistant 304 grade stainless
TWO
Built-in overflow with vertical orifice option – provides a failsafe drainage solution
THREE
The orifice height can be positioned so water can be retained on the roof for passive irrigation of a green roof.
FOUR
Larger single orifice is less prone to blockages – applies to vertical and horizontal orifices if the system is designed using attenuation principles
FIVE
Wide flange allows a secondary liner (if needed) to be dressed and sealed around the outlet without disturbing the roofing membrane seal.
SIX
The position of the orifice ensures that the roof membrane clamp ring seal is not subjected to prolonged periods of hydrostatic pressure when surcharged.
SEVEN
Coded solid cover (with vent) ensures the restrictor position is easily identified and prevents debris from entering and potentially blocking the outlet.
Featured Downloads
Related products